So, you already know that "Nicki Loves Cupcakes' and "Nicki Loves Social Work" but did you also know that "Nicki Loves Travel"? Yes.  I love to travel – day trips, mini vacations, out of state conferences and retreats and, local, regional, and international vacation.  One of my personal and professional 2018 goals is to travel more.  And guess what? I am inviting YOU to join me and add more travel to your life as well.
Special Announcement:
Nicki Sanders is now an Independent Travel Consultant with Colesville Travel, LLC
With much excitement, I have added travel services to the range of services offered through Packaged For Success Enterprises.  Colesville Travel, LLC, is a full-service travel company that has been serving the community since 1992. The reputation for excellence is earned every day by providing the ultimate in value and personal attention. Our goal is to provide you with the best experience every time you contact us. We can book you to any destination around the world. We have access to a wide range of travel possibilities, all at the best prices, making Colesville Travel the perfect place to begin your travel planning.  We strive to make travel simple, worry-free, and fun for both our corporate and leisure clients. Your complete satisfaction is only the first of our goals. We want every travel experience to create memories that will last a lifetime. My travel specialization is international conferences and retreats for businesses and entrepreneurs.
With the myriad of online travel sites and the ability to book directly with almost any airline, hotel or travel club why should you hire me as your Travel Consultant?
I can offer a variety of travel packages to fit your needs and budget. Our travel packages are designed to make your planning and travel experience easy and stress free.
As a Travel Consultant, I will often have access to information about rates and routes that average consumer does not.
I will give you personalized attention, so you avoid the frustration of spending hours surfing online for great deals.
Travel Agents can help you avoid the confusion of information overload.
Your enjoyment, safety and security are my top priority.
When you book with me you avoid surprise costs like unexpected meals, resort fees, transportation fees, or tourism fees.
I can provide resources and counsel related to foreign travel such as travel insurance, passports and inoculations.
Ready to explore your world?
1. Essence Music Festival New Orleans, LA  
July 6– July 9, 2018 – 3 nights
July 5 – July 9, 2018 – 4 nights
2. Taste of Chicago
July 13 – 16, 2018
3. Grand Tour of Italy: Rome, Florence, Sorrento and the Amalfi Coast
September 12 – 22, 2018
ALL TRAVEL ARRANGEMENTS MADE BY COLESVILLE TRAVEL
Nicki Sanders – Colesville Travel Consultant
P.O. Box 4844 ♦ Silver Spring, MD 20914
Office: 301-989-1654 ♦ Fax: 301-989-8473 ♦ Cell: 301-744-8018
 Email:  Nicki@ColesvilleTravel.com ♦ Website: www.ColesvilleTravel.com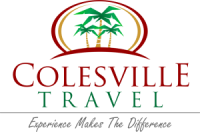 Nicki Sanders, MSW, is a travel and cupcake lover with a passion for self-discovery and career development. She has a strong background in developing and managing interns and successful internship programs. She is an accomplished manager, professor, coach, trainer, and group facilitator who has packaged her Master of Social Work degree and 20 years of diverse work experience into Packaged For Success, a full service training and professional development company.
© 2018 Copyright Protected. ALL RIGHTS ARE RESERVED.