Life changing, under-valued and versatile are the three words that Laila El-Asmar uses to describe the field of social work.
Laila earned a Master of Social Work degree from The National Catholic School of Social Service at The Catholic University of America in Washington, DC in 2002. She completed the clinical track. Laila holds the clinical level license for the state of Maryland –  Licensed Certified Social Worker-Clinical (LCSW-C). She also has a supervisor certification from Maryland Social Work Board.
Laila began her social work journey as an undergraduate Sociology major. During her sophomore year in college, her mother asked her what her profession would be? She wondered if Laila would become a researcher or a professor. Laila was uninterested in either of those careers but knew she wanted to help people.  Although she was unsure what "help people" meant at the time, Laila began to volunteer at a juvenile prison in Philadelphia and working at Catholic Social Services as an After-School Aide simultaneously. She met many Social Workers but was unsure what those professionals did and decided to ask. Laila shared that she was blown away by the versatility of the profession, so she decided to minor in Social Work because she felt it was too late to change her major during her junior year.
Laila credits her internships as the largest part of learning to be a Social Worker. Her first-year internship was with a school-based mental health program that contracted with Montgomery County Public Schools. Her second-year field placement was at a psychiatric hospital in Rockville, MD. Both internships resulted in full-time employment after graduation. Laila says that she could not have asked for a more challenging yet professionally beneficial placements.  She said that, although challenging, the support and learning that came along with them, was overwhelming (in a positive way!).
Immediately after graduation, Laila was hired at the inpatient mental health clinic where she had served as an intern. She says that this was the best experience in observing and witnessing mental illness in its rawest form.  Learning about mental illness from a class or a book is one thing, she shared, but when it's part of your work life, and you are working in it, it's a whole different experience.  A much better experience.  During her five years in that role Laila learned how to work on an interdisciplinary team, work with various populations, coordinate care, work with outside agencies, conduct family meetings, and treat substance abuse work, family meetings.
When she was ready to move on, Laila was hired at the agency from her first-year internship.  After five years of working there, I decided to move on. Once again, she worked as a part of an interdisciplinary team supporting elementary and middle school children and their families. She facilitated therapy groups, attended meetings for students in special education and those in need of special accommodations, facilitated parent workshops, and organized and hosted community events.  It was during this time that Laila decided that she wanted to have a private practice and only work clinically. After three years, she decided to take the leap and open her own private practice. She has been in private practice since September 2007 working mostly with adults but also a few children and teens.
Laila has learned a lot about herself and her skill set since opening her private practice. She says that learning how to talk about money was an important part of her growth. Asking for copays and private pay clients was something that she was always uncomfortable with, however, the longer that she has had her practice, the easier it has become. She has realized that payment is part of the process and responsibility of the clients. Laila also learned that she does not have to take all the cases that come my way. She can refer to another provider if her skill set does not match the clients. Private practice can be isolating. Starting out, Laila recommends joining an already established practice or at least setting up your practice in an office setting with other mental health providers. Laila says that having a strong clinical network is important as well which includes joining clinical list-serves and attending monthly meetings with other private practice providers to discuss cases or brainstorm ideas.
Laila says that her social work education properly prepared her field work with the background knowledge and theory to provide effective and ethical treatment but she sees a gap in education because traditional graduate level social work programs do not integrate business learning. In Laila's opinion, this knowledge is imperative to begin a private practice. Learning how to coordinate insurance benefits, understanding insurance policies for multiple providers, authorizations, keeping HIPPA records current, learning to talk about money (copays, private pays, etc.) and marketing are essential to private practice success. Laila recommends that any social worker planning to start a private practice take a business for healthcare course or have a mentor that is able and willing to help you learn these important tools. Another important part of private practice is knowing your clinical strengths and weaknesses she explains. Laila is also able to use her social work skills in her personal life as she balances family and entrepreneurship.
Laila loves the versatility of the social work profession. She describes it is a unique profession in that it has many, many options for study/concentration and employment. It is a profession that can also be parallel for other areas of work such as law and business. She believes that there really are no limits in our profession.
Laila's advice to social work students and recent graduates is to obtain an internship in an area that you are interested in. Experience is what makes a solid social worker she explains. She recommends volunteering in the summers and on weekends.  Laila also said that a lot of what we need to be a social worker is learned with time. Human interaction is what will lead you to become a good social worker on both a clinical and macro level.  Humans are versatile, like our profession, she said, so new social workers should be patient and open with their learning. She also shared that a mentor because you have someone that you learn from and share the difficulties that this work brings.
Laila's final advice for all social workers is to practice self-care. Our profession is about leading, helping, and caring for others. Taking care of yourself, mentally and physically is crucial she explained. We cannot forget to take care of us! Take vacations, enjoy weekends, and remember that your health comes first.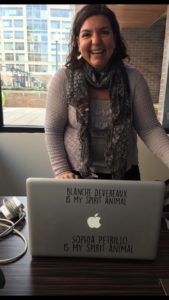 Nicki Sanders, MSW, is a travel and cupcake lover with a passion for self-discovery and career development. She has a strong background in developing and managing interns and successful internship programs. She is an accomplished manager, professor, coach, trainer, and group facilitator who has packaged her Master of Social Work degree and 20 years of diverse work experience into Packaged For Success, a full service training and professional development company.
© 2018 Copyright Protected. ALL RIGHTS ARE RESERVED.