I am still celebrating my 45th birthday. As I enjoy the present I am also looking forward to my future.
What's on your life list?
Check out these 45 Things I Want to Do in the Next 45 Years:
Purchase a farm in Chester County, Pennsylvania
Spend my 46th birthday in Australia
Vacation in Paris with my daughter
Attend the Essence Music Festival
Found a foster youth resource center
Visit Cape Town, South Africa
Visit the National Civil Rights Museum in Memphis, Tennessee
Feed a koala bear
Teach at Lincoln University in Pennsylvania
Take a picture with an elephant in Thailand
Visit all 50 states in the United States of America
Shop at the Mall of America in Bloomington, Minnesota
Attend a New Edition/BBD Meet and Greet
Tour a castle
See a TED Talk Live
Zipline in the rainforest in Costa Rica
Visit Niagara Falls
Plant a tree
See the Pyramids in Egypt
Vacation solo
Build a house with Habitat for Humanity
Sleep in a treehouse
Snorkel in Hawaii
Hire a Personal Shopper
Be a TV show audience member
Walk the Hollywood Walk of Fame
Volunteer in Haiti
Publish a book series
Visit the San Diego Zoo
Get paid to travel
Go whale watching
Go on an African safari
Ride a camel in the desert
Make a kiva.com loan
Celebrate a holiday in another country
Start a scholarship
Take a swamp tour in New Orleans
Milk a cow
Attend a film premiere
Visit a dude ranch
See the Northern Lights from Alaska
Drive on Route 66
Visit NASA Johnson Space Center in Houston, Texas
Walk on the Great Wall of China
Be debt free and wealthy
The world is our classroom and playground. My natural curiosity, attention to detail, love of people and social work training combine to allow me to thrive as a Travel Agent with Colesville Travel. Whether you want to take a family vacation, self-care sabbatical, good friends getaway, or simply want to reward yourself with weeks of globe-trotting, I can help you save time, money, and your sanity by putting together the perfect itinerary for your individual needs and desires. My travel specialization is international conferences and retreats for businesses and entrepreneurs.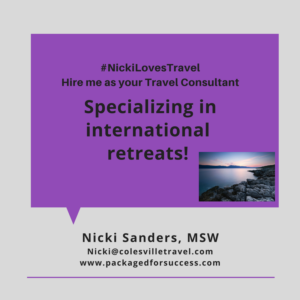 Nicki Sanders, MSW, is a travel and cupcake lover with a passion for self-discovery and career development. She has a strong background in developing and managing interns and successful internship programs. She is an accomplished manager, professor, coach, trainer, and group facilitator who has packaged her Master of Social Work degree and 20 years of diverse work experience into Packaged For Success, a full service training and professional development company.
© 2018 Copyright Protected. ALL RIGHTS ARE RESERVED.