Nicki Loves Music!
Music is a form of self-care for me. As I continue to celebrate my 45th birthday I am feeling quite nostalgic so I have decided to share my 45 favorite songs of all times with you.
My current musical preference is gospel and 'You Are The Living Word' by Fred Hammond is my favorite gospel song of ALL time.  As a teen, I danced to 'Girls Just Want To Have Fun' by Cyndi Lauper and 'Material Girl' by Madonna but my true musical love is the R&B and hip hop of the 80's and 90's – my formative years.  My favorite 45 songs are the songs I grew up on – both literally and figuratively.
Candy Girl – New Edition (Candy Girl began a life long love for my favorite group)
I'm Bad – LL Cool J
Ya Cold Wanna Be With Me – U.F.T.O.
Funky Beat – Whodini
The following songs are not listed in order of favorite/preference.
Still In Love – New Edition
My Secret – New Edition
Roni – Bobby Brown
Girlfriend – Bobby Brown
Poison – BBD
Fairytale Lover – U.T.F.O.
With You – Tony Terry
I Need Love – LL Cool J
Don't You Know – Heavy D
Super Woman – Karyn White
I Give All My Love To You – Keith Sweat
Right And A Wrong Way – Keith Sweat
Man In The Mirror – Michael Jackson
The Show – Doug E. Fresh
La Di Da Di – Doug E. Fresh and Slick Rick
I Feel Good – Stephanie Mills
End of the Road – Boyz II Men
A Song For Mama – Boyz II Men
My Posse On Broadway – Sir Mix A Lot
Tender Love – Force MDs
Tears – Force MDs
Sunshine – Babyface
Whip Appeal – Babyface
Soon As I Get Home – Babyface
I Wanna Be Your Man – Roger
I Feel For You – Chaka Khan
All My Life – KC and JoJo
Down For Life – KC and JoJo
Rhythm of the Night – DeBarge
Time Will Reveal – DeBarge
Adore – Prince
Purple Rain – Prince
Count On Me – Whitney Houston featuring CeCe Winans
Never Gonna Let You Go – Faith Evans
Let's Hear It For The Boy – Deniece Williams
U Will Know – Black Men United
Self-Destruction – Stop the Violence Movement
King Holiday – King Dream Chorus
We Are The World – USA for Africa
I Got It Made – Special Ed
Perfection – Run DMC
If reading this post makes you wonder if this is a personal blog or a professional blog, my answer is this blog is sort of a hybrid.  Happy listening!!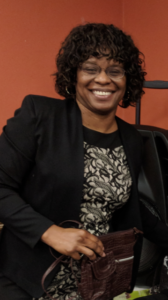 Nicki Sanders, MSW, is a travel and cupcake lover with a passion for self-discovery and career development. She has a strong background in developing and managing interns and successful internship programs. She is an accomplished manager, professor, coach, trainer, and group facilitator who has packaged her Master of Social Work degree and 20 years of diverse work experience into Packaged For Success, a full service training and professional development company.
© 2018 Copyright Protected. ALL RIGHTS ARE RESERVED.