Do you go to the movies often?  I don't.  I love music and cupcakes, but I am very selective about the movies I watch both in the theater and at home. I'm usually very excited or not excited at all.  Usually if I don't make it to the theater to see a movie in the first two weeks, I don't make it to the theater.
My movie taste is sort of random. I love to laugh but comedies aren't my favorite genre. I dislike horror movies – I need to feed my heart and mind love and light.  The control freak in me hates suspense movies. Not a comic book/super hero girl either but check below to see what Marvel movie made it to my list.
Because I'm still celebrating my milestone 45th birthday and the year is 2018, I'm sharing my 18 favorite movies with you. Nicki Loves These 18 Movies:
Krush Groove (1985)
Kindergarten Cop (1990)
Twins (1988)
Baby Boom (1987)
The Pacifier (2005)
The Fast and the Furious (2001)
2 Fast 2 Furious (2003)
Fast & Furious (2009)
Fast Five (2011)
Fast & Furious 6 (2013)
Furious 7 (2015)
Love and Basketball (2000)
The Best Man (1999)
Love Comes Softly (2003)
Soul Food (1997)
Coach Carter (2005)
Black Panther (2018)
For Richer or Poorer (1997)
I'm not really an action/adventure movie girl, but the Fast and Furious series is my favorite movie franchise EVER. I saw Fast & Furious (part 4) in the theater and loved it. I rented movies 1-3. Tokyo Drift was juvenile and disconnected. Fast Five was probably my most anticipated movie ever. The Fate of the Furious was a disappointment (We miss Paul Walker). Despite the letdown of the 8th movie, if or when there is a 9th and 10th movie I will gladly pay the ticket price on opening weekend.  I have 1-7 on DVD and I still watch the movies on regular cable with commercials. Did I already tell you this is my favorite movie collection ever?
Now, I would love for you to tell me a little about your movie preferences.
What is your favorite movie?
What is your favorite movie genre?
Do we have any of our top 10 favorite movies in common?
Related: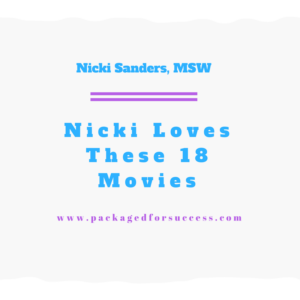 Nicki Sanders, MSW, is a travel and cupcake lover with a passion for self-discovery and career development. She has a strong background in developing and managing interns and successful internship programs. She is an accomplished manager, professor, coach, trainer, and group facilitator who has packaged her Master of Social Work degree and 20 years of diverse work experience into Packaged For Success, a full service training and professional development company.
© 2018 Copyright Protected. ALL RIGHTS ARE RESERVED.