Every intern wants to feel valued and appreciated. To keep your interns (and employees) engaged and motivated, it is in your best business interest to find ways to recognize and reward their valuable contributions.
One of my favorite television movie series is called "Signed, Sealed, Delivered" on Hallmark Movies and Mysteries channel.  This team of four goes above and beyond the normal call of duty in the Dead Letter Office to deliver old mail with incomplete addresses to its rightful owners.  These hard-working, fictitious United States Postal Service employees were promoted to a special Task Force and now call themselves the 'Postables'.  After solving a dead letter mystery that resulted in a life-saving kidney transplant for a young woman, the Postables receive a distinguished service award on behalf of their branch. Additionally, the Post Master General of the United States instructs their supervisor to confer upon each of them the highest (fictitious) honor given to a US Postal Worker – The Dark of Night Award. I just love happy endings!!
Unlike the television movie, reward systems don't have to be costly or grandiose. It really is the thought that counts with a reward system.  This is the perfect time to unleash your creativity. It is also better to recognize contributions more frequently and not wait for one major accomplishment. You can build excitement by letting your interns know what the reward system entails and how they can earn certain accolades or even make them a part of creating the system itself..
Here are 18 free and inexpensive ways to reward your intern for a job well done:
Make an announcement at your staff meeting
Reward them with time off (with pay if paid internship)
Provide a small financial bonus (if unpaid internship)
Reward them with a free meal
Provide a thank you card signed by your team
Create a certificate they can showcase in their career portfolio
Make a donation to their favorite charity in their name
Place their photo on a "wall of fame"
Recognize their contribution in your newsletter or eblast
Make a special tribute to them – song, video, etc.
Allow them to work on a special project of their choosing
Give a handwritten thank you note
Gift them with company gear – shirt, hat, water bottle
Give them a special pin or badge
Take the company at volunteer at their charity of choice
Gift them an inspirational book or journal
Order a special delivery to company – balloons, flowers, candy, etc.
Create a special prize wheel and let them "win" their recognition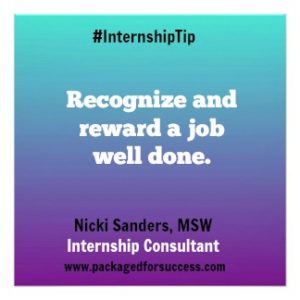 Nicki Sanders, MSW, is a cupcake lover with a passion for self-discovery and career development. She has a strong background in developing and managing interns and successful internship programs. She is an accomplished manager, professor, coach, trainer, and group facilitator who has packaged her Master of Social Work degree and 20 years of diverse work experience into Packaged For Success, a full service training and professional development company.
© 2018 Copyright Protected. ALL RIGHTS ARE RESERVED.