What I love second most about managing interns and employees as well as teaching college students is being able to make a positive impact on someone's life by sharing my wisdom and experience with the person who is willing and ready to learn.  What I love most about managing interns and employees is providing a platform for brilliance to shine.
As a manager and a professor, writing letters of recommendation is a normal part of the job – if you do the job well. I've written letters of recommendation for internships, jobs, and graduate school. I truly love writing letters of recommendation because it allows me to watch brilliance take its next step. I am also honored that I have been selected to continue in the process with someone who is pursuing their dreams.
Proud Manager Moment: I recently wrote letters of recommendation for two phenomenal, African American women under the age of thirty who are entering distinguished PhD programs this fall!!
Let me share a few tips with you on how to write a great letter of recommendations.
A great letter of recommendation clearly outlines a person's strengths, knowledge, abilities, and experiences. A great letter gives examples of how well the candidate performed and the type of environment in which the work was performed. It should detail the value a person added to your company. It should never be dry and boring.
Questions to Ask Yourself Before Writing:
How would you describe the candidate's problem-solving ability?
How would you describe the candidate's ability to relate to or work with others?
How would you describe the candidate's ability to take initiative or work independently?
How would you describe the candidate's communication skills?
How would you compare this candidate's work to others doing similar work?
Would you work with or hire this candidate again?
How will this candidate be an asset for the company or school for which they are applying?
The Basics:
Type the letter on letterhead
Address the letter to the right person/department
Be truthful
Check for grammar and spelling errors
Sign the letter
Keep a copy of the letter for your files
Writing A Great Letter:
Customize every letter of recommendation – don't write generic letters
Explain how you know the candidate and how long you have known them
Describe tasks or duties performed
Describe how the tasks or duties were performed
Describe the results achieved from the tasks or duties that were performed
Use language that clearly defines professional skills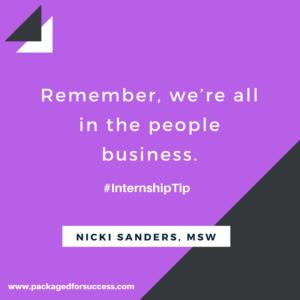 Nicki Sanders, MSW, is a travel and cupcake lover with a passion for self-discovery and career development. She has a strong background in developing and managing interns and successful internship programs. She is an accomplished manager, professor, coach, trainer, and group facilitator who has packaged her Master of Social Work degree and 20 years of diverse work experience into Packaged For Success, a full service training and professional development company.
© 2018 Copyright Protected. ALL RIGHTS ARE RESERVED.