Thanks to the awesome generosity and compassion of all the donors, sponsors, ambassadors and volunteers of our 13th Annual Pack A Purse™ Drive, we collected and distributed 754 purses filled with toiletries and 79 cosmetic bags and wallets to 21 youth serving organizations.
Our amazing team of volunteers sorted, filled, and packed hundreds of these purses at our annual Purse Packing Party on December 7th. We could not provide these special holiday care packages in purses to teen girls in foster homes, group homes, and homeless shelters without all of YOU. We can never truly express the depth of our gratitude. THANK YOU!
RECIPIENT ORGANIZATIONS:
Catholic Charities of the Archdiocese of Washington
WIN Family Services
Sasha Bruce Youthwork
Board of Child Care
BEST Kids
Family & Youth Initiative
Hearts and Homes for Youth
Covenant House
St. Ann's Center for Children and Families
National Center for Children and Families
Prince George's County Department of Social Services
Montgomery County Department of Social Services*
Howard County Department of Social Services
Grassroots Crisis Intervention Center
My Sister's Place
Child Welfare Services Safe Space Germantown
Crittenton Services of Greater Washington*
Linkages to Learning at Shriver Elementary School*
Crowns*
Mt. Hebron High School ESL Department*
First Baptist Church of Guilford*
*New 2019 Agency
SPONSORS
Ms. Biz
Girl Power of Montgomery County
Ridgeley's Run Community Center
AMBASSADORS
Lisa Stearns
Rolena King
Carolyn and Arthur Harris
Laila El-Asmar
Lynn Whiting
Latisha Lee
Tami Dabney
Shaunette Payne
Bessie Bordenave
DONORS
Nicki and JaMai Sanders
Laila El-Asmar
Diane Jackson
Lynn Walker
Shaunette Payne
Carolyn and Arthur Harris
Chesapeake Math IT Academy South Umoja Club
Glenarden Community Center
Ridgeley's Run Community Center
Ms. Biz
Girl Power of Montgomery County
Sisters of Ruth Chapter 720
Aletha Barham
Karen K. Parker
Colleen Lee
Andrea McConnell
Jackie Reeves
Trina Payne
Clyde Jackson
Betty Wagoner
Annette Lomax
Raschel Mooney
Monica Fenner
Jeanna Musacchia
PURSE PACKING PARTY VOLUNTEERS
Carolyn and Arthur Harris
Diane Jackson
Lynn Whiting
Laila El-Asmar
Ziad and Omar Ahmed
Isabella Wise
Cassandra Volcy
Stephany Sulbaran
Shandra Parks
Jackie Reeves
Latesha Casey
Angelica Rivas
Latetia Lee
Alena Medley
Kristy Frizzell
Chante Coleman
VOLUNTEER DELIVERY DRIVERS
Laila El-Asmar
Haley Kartey
13 YEAR GRAND TOTAL:
Because of YOU, Pack A Purse™ Drive has collected and distributed 7,855 purses (plus many hundreds of wallets and cosmetic bags) to 71 organizations over 13 holiday seasons (2007-2019).
SAVE THE DATES:
9th Annual Pack A Backpack™ Drive: April 1, 2020 – May 5, 2020
14th Annual Pack A Purse™ Drive: November 1, 2020 – December 3, 2020
10th Annual Purse Packing Party: Saturday, December 5, 2020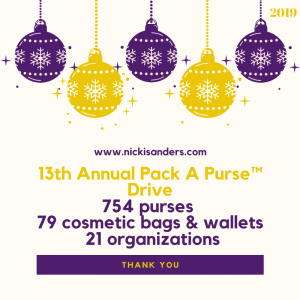 Nicki Sanders, MSW, is a travel and cupcake lover with a passion for self-discovery and career advancement. She has an extensive background in developing and managing multi-disciplinary teams and successful internship programs. She is an accomplished supervisor, professor, coach, trainer, and group facilitator who has merged her Master of Social Work degree and 20 years of diverse work experience into a thriving business. Nicki Sanders Leadership Consulting helps businesses increase employee recruitment and retention and helps women in mid-level management develop the confidence, competence, and credibility to lead with bold authenticity.
© 2019 Copyright Protected. ALL RIGHTS ARE RESERVED.