You know me – I love my God, my amazing daughter and family, my awesome friends, New Edition, Fred Hammond, social work, teaching, and of course cupcakes.
You likely also know that I am a natural introvert and extremely independent. You're probably aware that I am skilled in research and planning. I am definitely a critical thinker who is naturally risk adverse. Despite the fact that I have been wedded to the 'security' of a steady paycheck for over half my adult life, I left my full-time job in September to pursue entrepreneurship full-time!
I have operated some version of a part-time business (or sometimes even a hobby business) for over a decade but things are completely different when you take the full-time leap of faith. I was awesome at my job and loved the work, but I know that I am called for something more! I deserve my best!! No more side hustle, I am building a business empire. I have absolutely NO REGRETS! I believe in myself, my abilities, and my amazing network! I am super excited about 2020 but please know that this is truly a faith walk!!!
My biggest lesson learned in 2019 is that faith is a verb!!
If you want to see results you must act. Thinking and planning must be followed by implementation. Knowledge is not power application of knowledge is power. Today I value progress over perfection because I truly understand that faith is a verb.
As we prepare to enter a new decade, I want to take this opportunityto THANK YOU for supporting me in countless ways over the years.
I am also asking for your support in a new way. Entrepreneurship is a team sport and isolation and ego will keep an entrepreneur broke! I can't build a successful business alone. I must do something different if I want something different so I'm saying goodbye to my comfort zone!
What I Do:
A. I am Career Strategist who coaches women in mid-level management to develop the confidence, competence, and credibility to lead with authenticity and boldness.
· In other words, I offer Bold Authenticity monthly workshops, individual coaching sessions, and my Get Promoted Group Coaching Program to ambitious professional women who are supervisors with supervisors.
B. I am a Leadership Consultant who assists companies in expanding their influence and impact by enhancing employee recruitment, increasing employee morale and performance, and decreasing employee turnover.
· In other words, I help businesses find, train, and keep their best employees.
What You Can Do To Help:
1. Refer Me – Refer me to your friends, family, neighbors, and colleagues who are ready to pursue their next career level or improve the culture in their company. Feel free to share my website and social media as well.
2. Connect Me – My calendar is open for networking. I am asking you to help me be more visible by connecting me to the right people and places – change agents, associations, business groups, networking meetings, fundraisers, and community events.
3. Invite Me – Invite me to speak or train at your business, job, association, or conference on career development, managing people or creating a healthy workplace.
4. Hire Me – Register for one of my coaching programs, consulting packages, or workshops.
5. Ask Me – If you are still unsure how you can support me on this journey, please don't hesitate to ask me for further clarification.
I'm also looking forward to speaking with you and connecting with you online and in person! Thank you in advance and please let me know how I can support you!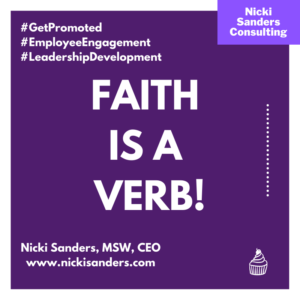 Nicki Sanders, MSW, is a travel and cupcake lover with a passion for self-discovery and career advancement. She has an extensive background in developing and managing multi-disciplinary teams and successful internship programs. She is an accomplished supervisor, professor, coach, trainer, and group facilitator who has merged her Master of Social Work degree and 20 years of diverse work experience into a thriving business. Nicki Sanders Consulting helps businesses increase employee recruitment and retention and helps women in mid-level management develop the confidence, competence, and credibility to lead with bold authenticity.
© 2019 Copyright Protected. ALL RIGHTS ARE RESERVED.