I want to start the new year with a re-introduction and a rebrand.  One of my 2018 business goals is to share more of me with you – my goals, preferences, experiences, and expectations and not just my technical knowledge and skills.
As we enter 2018, I want to share 18 things you should know about me.
Nicki – My name is Nicki. Nicki is the name my parents gave me. No, my name is not Nicole. Yes, Nicki is the name on my birth certificate.  Notice the spelling? For my millennial readers, I am the original Nicki. I was Nicki long before Nicki Minaj and we have very little in common.
Family – I have very strong family ties. My grandparents left an amazing legacy that includes the impact they've had on my daughter's life. Until recently there have been four generations on both sides of my family. I knew my paternal great-grandparents and my daughter knew her great-grandparents. I also had close relationships with my great aunts and great uncles.
Career Development – At the core of everything that I do is career development. Whether I'm teaching, coaching, mentoring or consulting I am helping students, entrepreneurs, and managers develop a powerful, purposeful career. I have strategically crafted the exact career I dreamed about during my senior year in high school.  I guess you can say that I am my own career development case study.
Music – I LOVE music. Gospel and R&B are my favorite genres. I can't remember a day when I haven't listened to music. I still have working record players in my home. There is music on my TV, cell phone, radio, and I still purchase CDs. I have vinyl records (33s and 45s) and cassette tapes that are decades old. My absolute all-time favorite group is New Edition. I've loved New Edition since 1983. Fred Hammond is my absolute all-time favorite gospel artist. I love Fred like I Iove New Edition.
Foster Care – I grew up in two close-knit families in a very close-knit community. Connection and stability are great words to describe my childhood. I believe that all children deserve what I had. My passion for supporting children and teens in foster care was ignited when I learned about St. Ann's Infant and Maternity Home in 1990. I still remember an article from a Washington Post magazine about the plight of border babies (babies abandoned in Washington, DC hospitals by crack addicted mothers) that touched my heart in a way nothing I had ever read before had. The foster care system is the reason I became a social worker. Currently I am supporting teens in foster through our annual community outreach projects – our Pack A Purse Drive™ and Pack A Backpack Drive™.
Introvert – I can't remember if I was voted quietest or most shy in high school, but I am definitely an introvert. In truth I'm not shy at all. I am extremely observant and very selective in whom I talk to and what I share. I'm a trainer, teacher, and group facilitator but I don't enjoy talking just to talk.  If I think you're interesting or you want to talk about a topic that I'm passionate about I can talk for hours.  After spending time with a lot of people I need quiet time to recharge and relax.  I enjoy my own company and need time alone to feel and give 100%.
Farms – I grew up in Washington, DC but I've wanted to live on a farm since I was a little girl.  I love barns and farm animals and acres of grass. My goal is to live on a farm in Pennsylvania. Think Diane Keaton in Baby Boom meets Chip and Joanna Gaines of HGTV's Fixer Upper.
Self-Reliance – In addition to beautiful barns, I love that farmers are self-reliant. I am fascinated by and proud of people who live full-time in a recreational vehicle (RV) or build a tiny house as a primary residence or live off-grid on a homestead. I know that none of the latter scenarios is right for me, but I salute their resilience and ingenuity nonetheless.
Creativity – I love being around creative people whether they are artists, designers, musicians, dancers, builders, or authors. I enjoy their confidence, authenticity, and talent. HGTV is my favorite television channel.
Community – I grew up in a tight-knit community and I am always seeking to help build community for others whether in the workplace, online, or in the classroom.
Busy – This is my constant work in progress. I have spent years being busy but not always productive. There were times that I lived in survival mode and felt like I was on a hamster wheel. I am no longer in that place, but I still must do a self-care self-check to make sure I am using my time wisely and treating myself well.
Advocacy – I have an extremely high empathy level. I don't know how NOT to advocate. When I see an injustice, I can't be quiet (and believe me I have tried). I already told you that I'm an introvert, but I am not shy, right?
Life Long Learner – I have a Master's degree and I am a college professor so obviously I believe in formal education, but I am a life-long learner who believes that the world is our classroom. I learn from people, travel, television, movies, books. I attend conferences, workshops, and online courses. There is also great value in an informal education.
Reading – I have always loved to read. Socks by Beverly Cleary was my favorite book as a child. I enjoyed reading Right On, Black Beat, Jet, and Seventeen magazines as a teen. My favorite teen series was Sweet Valley High. As an adult Black Enterprise became my favorite magazine.  I read the book The Pact: Three Young Men Make a Promise and Fulfill a Dream in one day. My favorite book of 2017 was The Magnolia Story by Chip and Joanna Gaines.
Game Shows – My daughter and I love television game shows. I used to watch The Price Is Right and Family Feud with my paternal great-grandfather. My maternal grandfather loved Wheel of Fortune, Jeopardy, and Family Feud.  In addition to those shows, my daughter and I were fans of Double Dare, Supermarket Sweep, and Deal Or No Deal.
Potential – Seeing the potential in others is one of my super powers. It's one of the things that makes me a great manager, coach, teacher, and friend.
Happy Place – I do work that can be traumatic, sad, and draining. Because of the work that I do I limit my movie, television and book selections to stories that allow me to stay in my happy place. I say no to mysteries and horror and Lifetime TV and limit watching the news. This is just one way I protect my spirit.
December – I have had the same end of year routine for years. I am so busy during the other months that I always end December watching Christmas movies which allows me to slow down, stay in my happy place, and reflect on the year. Since 2007, my December routine has included our annual Pack A Purse Drive.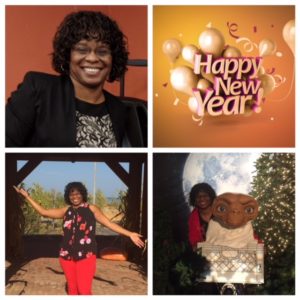 Nicki Sanders is a cupcake lover with a passion for self-discovery and career development. She has a strong background in developing and managing interns and successful internship programs. She is an accomplished manager, professor, coach, trainer, and group facilitator who has packaged her Master of Social Work degree and 20 years of diverse work experience into Packaged For Success, a full service training and professional development company.
© 2018 Copyright Protected. ALL RIGHTS ARE RESERVED.