A belief is something one accepts as true or real. It is a firmly held opinion or conviction. Our beliefs shape our lives and influence how we think, act, and feel. Our beliefs essentially create our realities.
A negative or limiting belief is something you believe to be true that limits or hinders you in some way. Limiting beliefs prevent us from living up to our full potential and experiencing a life full life.
Positive or empowering beliefs lead us to develop resilience, feel good about ourselves, overcome obstacles, and pursue the things we want and believe we deserve in life. Empowering beliefs are essential on your career journey.
Remember This!
Your Worth Is Not Determined By Your Salary
Your salary is what you are paid as an employee for a specific job. Money is a tool that allows you to purchase necessities and luxuries and access certain opportunities. Neither determines your value as a human being.
You Are More Than Your Job Title
A career is a continuous journey, not a one stop destination. There will e twists, turns, potholes and detours. As you travel this journey and put in the effort to uplevel your career, remember that you are ore than your job title. Jobs are temporary. You make the job. The job doesn't make you.
Here are 5 reasons why:
You may be presented with a better job opportunity
You may be released or fired
Your company may close/go out of business
Life events may force you to resign
You may just decide it's time to change course
The only thing that is constant is change.
If you stay ready you don't have to get ready.
With a Career Achievement Log Toolkit you will have documented evidence of your achievements and a cheat sheet to easily update your resume and cover letter with attentiveness and accuracy. Itis perfect for both new and experienced professionals. Use it to prepare for a job interview or a performance evaluation. In the Career Achievement Log Toolkit you receive three different plug and play templates that allow you to choose the method that works best for you to record your accomplishments. Your toolkit includes a printable template to document by hand along with two electronic options – a spreadsheet and a fillable PDF. You will also receive a Confidant Interview resource sheet and a Resume and Cover Letter tip sheet to ensure that your documentation is practical and comprehensive.
Invest in your career advancement today. Get Your Toolkit Here!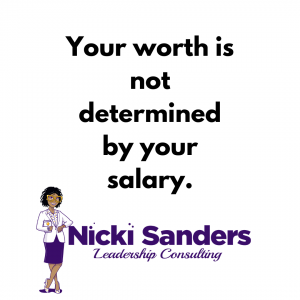 Nicki Sanders, MSW, CEO, is a travel and cupcake lover with an aptitude for authentic connection and career design. She has an extensive background in developing and managing successful programs and leading high-functioning multi-disciplinary teams. She is an accomplished professor, coach, trainer, and group facilitator who has merged her Master of Social Work degree and over 20 years of diverse work experience into a thriving business. Nicki Sanders Leadership Consulting helps businesses recruit and retain the best employees and helps women in mid-level management design the careers of their dreams.
© 2020 Copyright Protected. ALL RIGHTS ARE RESERVED.