"Motivational" is a great word to describe Tiara Nicole Riley. She is an entrepreneur, coach, published author, and competitive cheerleading coach with a heart to serve and commitment to excellence. She is organically drawn to leadership. As a high school senior, Tiara was dually enrolled in community college, working part-time, active in her church, and a competitive cheerleader. Within weeks of joining her sorority, Sigma Gamma Rho Sorority, Inc., during her junior year in college, Tiara became President of the chapter. Leadership and results are a part of who Tiara is.
Tiara defines leadership as the ability to cultivate a team and get results. She believes that great leadership is cultivated through personal relationships. To be an effective leader she says that one must understand their people, what motivates them, and their needs. Since studies have shown that companies led by women are more effective, Tiara encourages women to lead like a woman and not try to lead like a man. What Tiara believes makes women naturally good leaders are our natural ability to multi-task, be empathetic and provide emotional support, and genuinely care about each other.
Tiara has worked in retail leadership in several Fortune 100 companies where she was responsible for leading teams, driving sales, and getting results. As a Front-End Manager for a Walmart store that brought in $110,000,000 in sales annually, Tiara managed 125 employees – one quarter of the employees in a store that also served as a training location. In addition to managing the day to day activities, Tiara was also required to provide employee training. Although this was a high-pressure job, Tiara was sure not to transfer the pressure to her team. She prides herself on being the manager that she wanted and treated her staff the way that she wanted to be treated. Tiara also practiced humility. While new to her role, she took the time to see how her workers completed their jobs and learned from the team. She observed the functions of the team and operations before implementing any changes. It's in this role where the importance of maintaining relationships with your team was most tangible. "If you take care of your people, they will take care of you", she said. Tiara built organic relationships with the managers under her leadership and earned the respect, loyalty and appreciation of her staff and they in turn delivered the effort, consistency, and results that led to ongoing success. Tiara was a responsive and understanding manager. She did not overlook the human experience, always remembering that she as leading people. She was a stickler for the rules but was also lenient when possible. This flexibility made accountability and success much easier.
Tiara believes that her leadership superpowers are caring and transparency. She leads with compassion and believes that her commitment to being honest without being rude, looking at the human to make them team feel valued, and caring enough to notice and engage when employees are not feeling or doing their best are what sets her apart.
What Tiara wished she had known before becoming a manager is how to better embrace soft skills. As a new manager, she was committed to "keeping it real" and had implemented management by force. She is grateful that her manager, a Black woman, pulled her aside and explained how her tactics may result in compliance but would not earn her the respect and cooperation of her team. During that time, she learned how to speak to her staff instead of speaking at them, but more importantly she learned the power of mentorship and representation. Tiara believes that she was better able to receive the advice of her manager because she was a Black woman. The caring, mentorship and accountability she received in that role has helped her throughout her career.
Tiara has coached competitive cheerleading for five years. It is one way that she gives back and provides mentorship. She has created an atmosphere where she is trusted and respected by showing her girls that she genuinely cares about them. She instills in her girls a strong work ethic and valuable life skills. Tiara shows her team that hard work beats talent if talent doesn't work hard. She encourages them to give their best, persevere in the midst of challenges and to work hard to become the best version of themselves.
Tiara believes that her spirit of obedience to do what God has called her to do is the key to her success. She is a full-time entrepreneur – an author, a business coach, a podcast host, and a motivational speaker – who serves millennial Black women. Tiara has published one book each year since 2016. Her 4th book is already in the hands of her publisher. Writing is therapeutic for Tiara and her first book, '23 And Finally Loving Me', was born of her realization that her year-long journaling process could help others.
Tiara is a master at work-life balance and self-care but admits that she arrived at this place out of necessity. In 2016, Tiara miscarried twin boys and through her grief did not have energy to be there for anyone but herself. Shortly after birthing her sons, Tiara showed up to work in an intense, high-pressure job where six days a week she commuted 1 ½ hours each way. This hectic life forced Tiara, who is naturally a giver, to prioritize self-care and give to herself first if she wanted to live and not simply exist. She was also building her business during this challenging time. Presently, Tiara dedicates one day each week to doing nothing out of obligation – it is solely her day. The first two hours of each day Tiara also dedicates to herself. She has realized the importance of self-care and that she has more to pour into others after she pours into herself. Not only is Tiara in a better mood because of her commitment to self-care, she is also more productive in her business. Journaling is still a part of her self-care plan.
Not surprising is that Tiara's advice to women in leadership is to take care of yourself first. She warns that you can be replaced at your job, but your life cannot be replaced. Tiara encourages women employees to use their paid time off and take mental health days as needed. She especially wants to share with Black women to continue operating in the spirit of excellence but to grant themselves grace because many times Black women give and give on the job at a higher level than others without allowing themselves to slow down or rest.
Tiara is allergic to many things, including cupcakes, but she is a foodie who highly recommends we all indulge in the Brazilian steakhouse experience.
Season 3 of Tiara's "Chasing Dreams" podcast launches on September 29th. You can find out more about Tiara Nicole Riley on her website and Facebook, Twitter, and Instagram.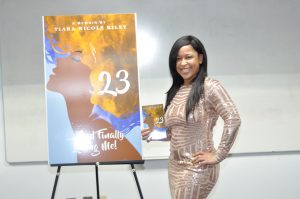 Nicki Sanders, MSW, CEO, is a travel and cupcake lover with an aptitude for authentic connection and career design. She has an extensive background in developing and managing successful programs and leading high-functioning multi-disciplinary teams. She is an accomplished professor, coach, trainer, and group facilitator who has merged her Master of Social Work degree and over 20 years of diverse work experience into a thriving business. Nicki Sanders Leadership Consulting helps businesses recruit and retain the best employees and helps women in mid-level management design the careers of their dreams.
© 2020 Copyright Protected. ALL RIGHTS ARE RESERVED.