What I've learned over the years is that many of us make assumptions – regularly.
We assume that we know what our professor wants so we don't take the time to read the directions and tank our research paper grade.
We assume that we know how to put together that Ikea furniture so we don't read the instructions.
We assume that all jobs only ask for a resume and cover letter so we don't read the application details and end our candidacy because we didn't submit a writing sample.
We assume that our clients are satisfied and lose them because they are unhappy and we missed the signs.
We assume that a promotion is out of our reach so we don't ask what we need to do to advance to the next level in our company.
You know what they say when a person assumes…
If you want to drive from Washington, DC to New Orleans, you would definitely get lost and delay your arrival if you assumed you could get there simply by driving south. Getting behind the wheel without a GPS/map and a schedule/itinerary doesn't make sense to a driver with purpose and no time to waste.
Get in the driver's seat in your career. Career research is essential to career advancement. You have a goal and a purpose and you're well aware that it's time to stop wasting your time.
Stop Assuming!
Stop assuming you know exactly what the position entails. Stop assuming you need to wait to apply for the job. Stop assuming your resume will be overlooked. Stop assuming you need more education. Take the time to research and learn – get the facts.
3 Ways to Gain the Knowledge to Advance Your Career
Internet research – Start with learning the basics of the industry then continue with learning about the leading professionals and companies in the field. Youtube, social media accounts, podcasts, industry associations, and universities that offer a degree in the field are great places to start. [I'm going to include books and audiobooks in this category.]
Informational Interview – Networking is essential to career advancement. Whether you have a traditional information interview in the office, arrange a telephone call, or schedule a chat over coffee, insider information will increase your competitive advantage. Remember to ask questions that you cannot find on the internet.
Professional Support – A career coach, counselor, or strategist can help you avoid information overload, dodge common career pitfalls, overcome fear and self-doubt, and bypass career stagnation to reach your career goals quicker and with more enthusiasm.
If you're ready to advance your career, contact me and let's get you on your unique career journey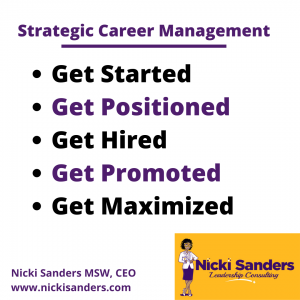 Nicki Sanders, MSW, CEO, is a travel and cupcake lover with an aptitude for authentic connection and career design. She has an extensive background in developing and managing successful programs and leading high-functioning multi-disciplinary teams. She is an accomplished professor, coach, trainer, and group facilitator who has merged her Master of Social Work degree and over 20 years of diverse work experience into a thriving business. Nicki Sanders Leadership Consulting helps businesses recruit and retain the best employees and helps women in mid-level management design the careers of their dreams.