We live in a world that thrives on competition, speed and busyness. Although we value ambition and drive, over-scheduling, over-committing, and competition can lead to resentment, exhaustion, and poor performance. None of us has it totally together all the time. There is no honor and glory in pretending and overwhelm. It's time to hang up the superhero cape.
Quality self-care is essential to mental health, emotional health, physical health, and career success. Self-care is important to maintain a healthy relationship with yourself and those you love. In order to properly to care for loved ones, you must first take care of yourself. Although self-care is a broad term that encompasses the things that you to do be good to yourself, quality self-care is more than bubble baths, pedicures, and boxes of chocolates (or cupcakes in my case). Quality self-care results in making decisions with clarity, better handling of stress, having more energy, and improved productivity. Quality self-care allows you to function at your best.
Self-care is about mindset, not fitting pampering into your busy schedule. Here are three ways to practice better self-care:
1. Self-Reflection – Self-reflection time is for analyzing and understanding your thoughts and behaviors. It is time dedicated to you. Self-reflection allows you the opportunity to become more aware of who you are and what you want and how you want to achieve it.
2. Identify Top Priorities – Instead of saying yes to every event, assignment, or activity, take time to prioritize the people and things that matter to you most. What things bring you joy? What things bring you closer to your goals? What things bring you closer to the people you love? Make time for those things. Walk away from the things and people that drain your time, energy, and happiness.
3. Rest/Unwind – You are not a computer or a robot. Your body needs rest, replenishment, and relaxation in order to function properly. Sufficient rest/sleep improves your immune system, creativity, and memory. Get adequate sleep each night, take breaks and naps, and unplug. Slow down to speed up.
Related: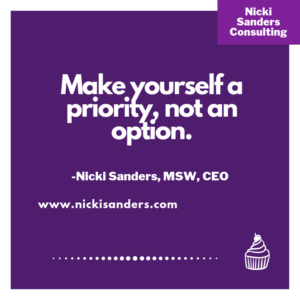 Nicki Sanders, MSW, is a travel and cupcake lover with a passion for self-discovery and career advancement. She has an extensive background in developing and managing interns and successful internship programs. She is an accomplished supervisor, professor, coach, trainer, and group facilitator who has merged her Master of Social Work degree and 20 years of diverse work experience into a thriving business.  Nicki Sanders Consulting helps businesses increase employee recruitment and retention and helps managers uplevel their leadership skills.  
© 2019 Copyright Protected. ALL RIGHTS ARE RESERVED.