Most of us continually seek improvement and increase in our lives.
Are you are ready for something new and exciting in your home, work, or social scene? Your next chapter awaits.
Here are 35 questions to ask yourself if you want to up level your life:
What do you want more of?
What do you want less of?
Where do you want to go?
Who do you want to be?
What are you good at?
What are you great at?
Who knows that you are great in those things?
What words do you use to describe yourself?
Are you comfortable with yourself?
Do you really like yourself?
What matters most to you and why?
Who are the most important people in your life?
What stresses you out?
What relaxes you?
What is your definition of success?
In what areas of your life are you settling?
What labels do you want to shed?
Who do you admire?
What are you most proud of?
What do you value most?
What is the scariest choice you have made?
What is the scariest decision you are avoiding?
Who will hold you accountable?
What do you see as an obstacle?
What habit do you want to break?
What routine do you want to create?
Where do you want to create change in your life?
How do you want to help others change their lives?
What do you want to try?
What skill do you want to learn?
What is your main manner of managing stress?
What brings you pure joy?
Who frustrates you?
What annoys you?
Who would you want to be mentored by?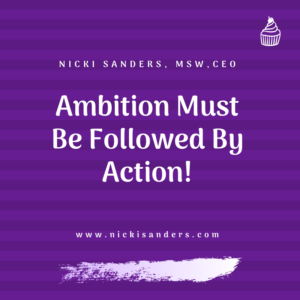 Nicki Sanders, MSW, is a Leadership and Career Strategist who helps mid and senior level women leaders develop the confidence, competence, and credibility to lead with authenticity and boldness. She has an extensive background in leading multi-disciplinary teams, developing and managing programs, and forming public-private partnerships. She is a college professor with a passion for teaching and mentoring the next generation of leaders. Nicki is an accomplished supervisor, trainer, and group facilitator who has merged her Master of Social Work degree and over 20 years of diverse work experience into a thriving business. Nicki Sanders Leadership Consulting assists companies in expanding their influence and impact by enhancing employee recruitment, increasing employee morale and performance, and decreasing employee turnover.  Nicki is a travel and cupcake lover who also enjoys reading, listening to music, and serving her community.

© 2019 Copyright Protected. ALL RIGHTS ARE RESERVED.