Do you see yourself in your current position in 5 years?
What factors did you consider in making this determination?
One of the reasons that my clients contact me is because they are unsure whether they want to stay in their current position or begin a job search. Some know that they have outgrown their present job but lack the confidence to go after the position that they really want.
"Job-hopping" doesn't carry the same stigma that it did 10 years ago. Few employers expect you to stay with them for decades. In fact, 3-5 years in a role without a promotion or significant contributions is now viewed unfavorably. Here are 5 reasons to remain at your current job:
Fairly and adequately compensated for your work
Passion and enjoyment for the work
Opportunities to learn and contribute
Recognized and appreciated for your work
Encouraging and supportive supervisor and colleagues
Fear and uncertainty can cloud judgment. As a result, many well-educated, experienced, hard-working  professional women are underemployed. When considering your career path, understand that your job should be as good a fit for you as you are for it. Here are 5 reasons to leave your job:
Compensation doesn't allow you to maintain your desired lifestyle
Demotivated or bored with the work
Lack of professional challenge and opportunities for development
Lack of opportunities for growth and advancement
Difficult work environment where employees feel disrespected, unvalued, or silenced
There is inner work that is required in order to advance your career:
Know your worth
Seek work-life balance
Honor your values
Participate in continuing education/training
Reevaluate your career goals
Do you have a 5 year career plan?
Are you ready to create a 5 year career plan?
Now is the perfect time to reevaluate your current job and industry.
Because you deserve a career that fills your heart, mind, and wallet, through May 30, 2020, I am offering a Coronavirus Career Acceleration Bundle that includes my Career Journey Map followed by my Career Acceleration Strategy Session. A Career Journey Map session allows you to determine whether to stay in your current role, seek a promotion, or begin your job search [Get Started]. A Career Acceleration Strategy Session offers brainstorming and support in implementing individualized career strategies to attain your career goals [Get Positioned] The Coronavirus Career Acceleration Bundle is available for $197.00. The combined value of this special offer is $394.00. This is an amazing savings of $197.00.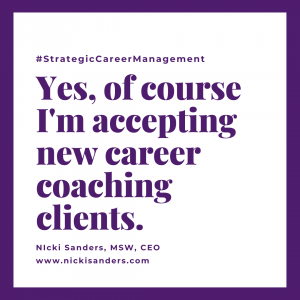 Nicki Sanders, MSW, CEO, is a travel and cupcake lover with an aptitude for authentic connection and career design. She has an extensive background in developing and managing successful programs and leading high-functioning multi-disciplinary teams. She is an accomplished professor, coach, trainer, and group facilitator who has merged her Master of Social Work degree and over 20 years of diverse work experience into a thriving business. Nicki Sanders Leadership Consulting helps businesses recruit and retain the best employees and helps women in mid-level management design the careers of their dreams.
© 2020 Copyright Protected. ALL RIGHTS ARE RESERVED.