Kahlil M. Kuykendall defines a leader as a visionary who embodies perseverance, balance and resilience and is willing to grow with each step. She believes in the concept of wellness in the community. She delivers social change and social awareness programs and develops partnerships that facilitate wellness for youth, teens, and families. She is a certified Yoga for Youth, Yoga Education and Radiant Child children's yoga teacher and workshop facilitator. She is a certified prenatal yoga teacher and is also certified in Kundalini and Hatha yoga. Kahlil has worked in over thirty schools in the District of Columbia (private and public) teaching yoga. She has coached educators, youth workers, college volunteers, interns, and graduate students to create and implement curricula for young people. Her areas of expertise include education, youth development, arts and culture, project-based learning, child development, holistic wellness, mental health, and workforce development.
Kahlil was born in Chicago but grew up in Washington, DC. Her leadership journey began when she became a candidate for President of the student government association as an undergraduate student at Langston University in Oklahoma. The process of earning votes forced her to take charge. Once elected, she was further thrust into leadership as she was tasked with listening to the concerns of her peers and communicating their wants and needs to the administration. This exposure to how government and administration works helped her begin to find her own voice. As Kahlil represented her university at the state level, and representing the only HBCU (Historically Black Colleges and Universities) in the state, naturally issues of equity, gender, and advocacy surfaced. Kahlil was often the only person of color and only female. She strengthened her resolve to lead.
Kahlil further defines leadership as moments of growth and moments of growing. During her first time out of the country, Kahlil was introduced to gender and development while working and living in Harare, Zimbabwe as she volunteered on women's projects designed to help women and communities. As she witnessed leadership and perseverance in African women, she wanted to learn more. She returned to the United States and enrolled in graduate school at Howard University where she earned a master's of arts degree in economics with an emphasis on gender and international development. Kahlil was one of the top 5 of 10 finalists for a Congressional Black Caucus Foundation (CBCF) Congressional Fellowship Program. She was not selected for the fellowship however she preserved and went on to work on Capitol Hill for the longest serving member of the US House of Representative from West Virginia. Along with the Congressman, Kahlil also worked with other state representatives like US Senators Robert Bryd & Jay Rockefeller. This experience allowed Kahlil to experience two different worlds in one Washington, DC, put advocacy into practice and see history being made. This pivot allowed her deeper political and public policy exposure and a higher level position with a senior ranking member of the US Congress working on issues related to the Middle East Peace Process.
Kahlil left Capitol Hill to work for the National Council of Negro Women (NCNW) as the Deputy Director for the International Development Center working to promote and empower women throughout Africa, India and the Caribbean. Kahlil saw herself as a hard worker but not necessarily as the leader that her supervisor saw her as when she was put in charge of leading the organization's leadership and members who were participating and attending the United Nations World Conference Against Racism (UN WCAR) held in Durban, South Africa. What she learned from being given this opportunity is that being in the driver's seat takes effort, commitment and strategy. Kahlil was a newly breastfeeding mother with her first child when she traveled to Africa for work with her son. Learning the balance of working internationally, marriage and parenting was key to her sustainability. As is often the case for women, Kahlil wondered if she could lead like a woman or if she would be expected to lead like a man. This opportunity led to other opportunities. Once again she evaluated how she would strengthen her own voice. Kahlil met many women from around the world and learned more about the powerful legacy of service and organizing in women of color. This had a powerful impact on her sense of the world and the many ways women can contribute. Kahlil decided to focus more specifically on the advancement of women and girls. Her travel experiences for work and research also include Ghana, Japan, Israel, Senegal, Benin, Eritrea, Egypt, Nigeria, and India. She also worked with the United Nations and served on the United Nations Association – United States America (UNA-USA) Board of Directors from 2005-2008.
As Kahlil pivoted yet again from international development to marriage and motherhood, she again did more inner work. She had to define work/life balance for herself and establish her own identity as a partner and leader of her children. After ten years of working in the field of international development and with the birth of her third child, Kahlil began to explore her cumulative life experiences and connected with Healthy Babies Project to address the needs of young mothers. Kahlil has always seen a part of herself in the women and girls that she serves. She became a trained (DONA) birth doula to support a teen mom who wanted to become a midwife. Kahlil helped these young mothers connect to themselves and their emotions, growth, and development to have healthier pregnancy outcomes. She developed the "Teen Doula Project" which is a teen doula education and workforce development training program to help teens take better care of their bodies and also earn an income. As Kahlil built a "village" of cheerleaders and resources for teens, she adapted the mantra "I want for my sister what I want for myself". Kahlil believes that women are great leaders because they are naturally intuitive. When we honor our "breath" and tap into our intuition and trust it to guide us, we create a community of wellness.
Kahlil's leadership superpower is transforming lives. She sees herself as a reflecting pool where she can recognize and attach to the powers of those she engages with and then gives it back to them so that they both are transformed and can gracefully ascend to their next level. Kahlil also allows herself to be a mirror and see the amazing attributes of others also in herself. She leads with a shared connection and synergy. One of her favorite mottos is "it takes a village" as she knows that missions are much harder to achieve alone and as she has grown into womanhood, she has learned how to be a team player and work on teams. It takes a lot of skill and commitment to be patient and learn from and grow a team. Kahlil now knows that once you understand where you fit in and see the strength in numbers that success is eminent.
Kahlil's favorite place to buy cupcakes is Sticky Fingers Vegan Bakery.  Kahlil is a part-time faculty member at George Washington University Milken Institute in the School of Public Health. She is a wife, the mother of four and the CEO and Founder of Mama Yogis Wellness.  Through Mama Yogis Wellness, Kahlil is spreading the message that we can change the world one breath at a time and one person at a time.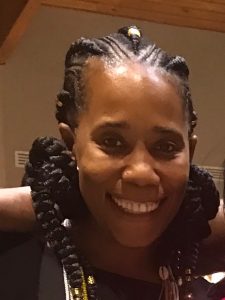 Nicki Sanders, MSW, CEO, is a travel and cupcake lover with an aptitude for authentic connection and career design. She has an extensive background in developing and managing successful programs and leading high-functioning multi-disciplinary teams. She is an accomplished professor, coach, trainer, and group facilitator who has merged her Master of Social Work degree and over 20 years of diverse work experience into a thriving business. Nicki Sanders Leadership Consulting helps businesses recruit and retain the best employees and helps women in mid-level management design the careers of their dreams.
© 2020 Copyright Protected. ALL RIGHTS ARE RESERVED.