Being a manager or supervisor is not for the faint at heart. People fantasize about being "the boss" without realizing all that leadership entails. If you are not a "people person" please step aside and let someone else take the helm.
Here are 5 things I know for sure about being a manager:
Listening is essential
Everyone wants to be heard. Managers and supervisors must be able to clearly articulate their vision and clearly explain policies, procedures, and expectations, however, being a good listener is essential to be a good speaker. Not only will your staff have great ideas and suggestions that could boost business but hearing them when they are unhappy feeling underutilized is essential to staff morale. You also must be a good listener to hear what is not being said but if missed can ruin company culture.
You manage things and you lead people
The tasks at hand may not change but people do. You can manage the work, and in many ways even manage how the work is completed, but in the end, it is the people who make the business. Strong leaders produce a strong workforce. Employees who feel valued do quality work. Employees who are professionally challenged do quality work. Employees who understand and believe in the company mission and vision do quality work. Strong leaders produce a strong workforce.
At some point you will over-extend yourself
There is rarely a shortage of things to do. You will almost always have competing deadlines and possibly competing priorities. Staff will have personal issues that impact their work, customers will have unrealistic expectations, and there will always be business expenses that must be paid. That short list doesn't even touch the tip of all the things you are responsible for. At some point you will over-extend yourself trying to get everything done. The goal is to limit the overwhelm and recognize when you have over-extended yourself for an extended period. Working hard at hard work is a part of business but burnout is not. You can avoid burnout.
Business plans, spending plans, safety plans, and staffing plans are essential components of business success but know that regardless of your best laid plans, things will still go awry. Change is constant, and life can be unpredictable. Always have a contingency plan which includes expecting the unexpected.
There is no 'one size fits all' approach to management.
I am a strong proponent of professional development, training, and mentorship. Each helps you increase your skills, knowledge, and usually even increases your confidence. Please be aware that no matter how many books you read or curse you take that there will be a high level of "on the job training". Each employee is a unique individual with different experiences, triggers, and skills who deserves individual attention and requires individual instruction. What works for one employee or manager may not work for another. You may have situations in your company that other managers you know have not experienced. Keep learning and keep leading by embracing individuality.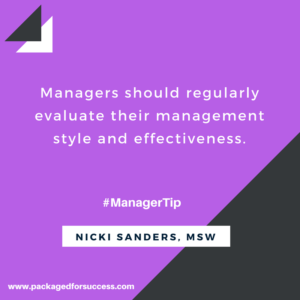 Nicki Sanders, MSW, is a travel and cupcake lover with a passion for self-discovery and career advancement. She has an extensive background in developing and managing interns and successful internship programs. She is an accomplished supervisor, professor, coach, trainer, and group facilitator who has merged her Master of Social Work degree and 20 years of diverse work experience into a thriving business. Nicki Sanders Consulting helps businesses increase employee recruitment and retention and helps managers uplevel their leadership skills.
© 2019 Copyright Protected. ALL RIGHTS ARE RESERVED.