I left the federal government in 1997, so I admit that I had a lot less financial responsibilities when I embraced a furlough over two decades ago.  That furlough was also shorter in duration.

I fully understand that over 800,000 federal workers are concerned about stable housing, healthcare, education, utilities, transportation, and food. I don't want to make this a political post, but this scenario isn't good for the security or greatness of our country. Cab drivers, grocery stores, restaurants, hotels, museums, child care centers, and government contractors are also directly impacted. This not an exhaustive list. The ripple effect is deep and widespread. Real people are hurting and afraid.

I do not live in a border state but I do and have worked with immigrants (documented and undocumented) and disagree with the narrative of this crisis at the Mexican border that can only be solved by building a 5+ billion dollar wall. I believe that technological innovation is needed to protect our borders and that homegrown terrorism is alive and well and intentionally ignored by this administration. We aren't protecting our country with a furlough of the people whose job it is to protect our waterways, airways, and borders. I said I wouldn't make this a political post, so I digress.


I have been wondering for weeks what I can do to help. Here is what I have decided:

1. I am an experienced case manager and I can share food, financial, and legal resources here and other resources on my Facebook page.
As a social worker, I understand the emotional and psychological burden, so in addition to sharing self-care tips, I also want to share the numbers for mental health support.
Suicide Hotline Number 1-800-273-8255
Crisis Support Number 1-877-229-4369
Federal workers should be able to work but that is not the reality. Here are a few things I recommend for your unpaid time off (for those who aren't forced to work without pay)
Network – Go out and meet new people or reconnect with your support system. Don't go through this alone
Learn new skills – There are many free online course and workshops as well as workshops offered by career centers that may be valuable
Update employment documents – Now is a good time to update your resume and cover letter. It can be good for your morale to see your achievements in one place.
Schedule Informational interviews – Meet new people and explore new professional opportunities by conducting informational interviews.
Visit your local library or book store – Reading can be calming and informative and each has more to offer than just books. Again, it can be helpful to be around other people.
Start a hobby – Spend time doing hobbies that you love or try new ones to keep your brain active and your spirits higher
Declutter – It can feel good to get rid of things you don't want or need any longer. Purging can be cleaning and lucrative if you decide to sell unused items.
Volunteer – Helping others often allows you to take your mind off of your own challenges
Freelance – Profit from your expertise by helping others. Start a business, register on a freelance website, drive for a ride share company, provide child care or tutoring, offer pet walking or pet sitting services, explore house sitting, or provide handyman services.
2. I am an experienced hiring manager and Career Coach and I want to assist those who want to change course. You can thrive during the government shutdown. I can help you use this time off to "get hired or get promoted". Serious federal employees should CONTACT me for a free 20 minute consultation.
BONUS: I am gifting one FREE Career Strategy Session to one furloughed federal worker. (After their initial consultation through 1/31/19.)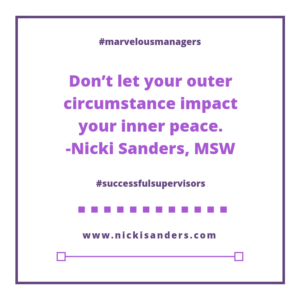 Nicki Sanders, MSW, is a travel and cupcake lover with a passion for self-discovery and career advancement. She has an extensive background in developing and managing interns and successful internship programs. She is an accomplished supervisor, professor, coach, trainer, and group facilitator who has merged her Master of Social Work degree and 20 years of diverse work experience into a thriving business. Nicki Sanders Consulting helps businesses increase employee recruitment and retention and helps managers uplevel their leadership skills.
© 2019 Copyright Protected. ALL RIGHTS ARE RESERVED.