"Start where you are, use what you have, do what you can" – Arthur Ashe
Mindset is a critical component in how you live your life, not just how you work at your job or design your career. Your mindset – frame of mind; collection of thoughts and beliefs that shape your thinking – determines how you navigate the world. Mindset separates the successful from those who sit idle on the sidelines.
My clients who are most successful at implementing the strategies I provide and designing the careers of their dreams have a growth mindset versus a fixed mindset. A growth mindset is more than optimism and a strong will. A person with a growth mindset believes that their most basic abilities can be developed through dedication and hard work. A person with a growth mindset believes that they can change their career trajectory with focus and hard work, accepts challenges as opportunities to grow, values constructive criticism, views failure as a stepping stone, and doesn't give up when there is a setback (because there will be setbacks). Although fear or self-doubt may creep in from time to time, my most successful clients believe in themselves and believe in their dreams. And they also believe that I believe in them as well.
5 Ways to Develop a Growth Mindset:
Let your curiosity lead the way
Spend time in self-reflection
Leave your comfort zone
Be persistent and intentional
Get the support that you need
Continuous professional development is possible. Are you ready to create your own success? If you are ready to put in the work to design and build a career that you love, email me and let's chat.
Oh, and don't forget you only have 3 days left to take advantage of the Back to School Career Activation Strategy Session special promotion. Register by 7/31/20. The regular investment for this Career Activation Strategy Session is $297, but if you register in the next 4 days you can take advantage of a special offer of $97.00.
REGISTER TODAY and let's get to work!
Once the $97.00 payment is received, you will be sent a questionnaire via email to determine the focus and maximize our time together.
Schedule our Activation Session by August 15, 2020.
Come to the Activation Session prepared for exploration and implementation.
REGISTRATION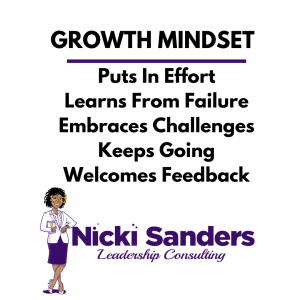 Nicki Sanders, MSW, CEO, is a travel and cupcake lover with an aptitude for authentic connection and career design. She has an extensive background in developing and managing successful programs and leading high-functioning multi-disciplinary teams. She is an accomplished professor, coach, trainer, and group facilitator who has merged her Master of Social Work degree and over 20 years of diverse work experience into a thriving business. Nicki Sanders Leadership Consulting helps businesses recruit and retain the best employees and helps women in mid-level management design the careers of their dreams.
© 2020 Copyright Protected. ALL RIGHTS ARE RESERVED.