Spontaneity is great for vacations, but for careers…not so much!
Sometimes it's ok to go with the flow. There are times when doors open that you weren't expecting and you can boldly walk through to your next level, (we know, if you stay ready you don't have to get ready) but it is not a recommended long-term career advancement strategy. Saying yes to whatever comes your way without proper analysis can land you in a place of regret. Sitting and waiting and hoping and wishing will keep you stagnant, frustrated, and maybe even broke.    
Five questions to help you design a career that you love:
Where do you want to work? (location, industry, and/or company)
What title or position do you want?
What is the thing(s) that you enjoy doing so much that you often lose track of time?
What is your ideal benefit package?
How much autonomy or responsibility do you desire?
Achievement requires action. You can have what you want if you are willing to work for it.
"There's a difference between interest and commitment. When you're interested in doing something you do it only when convenient. When you're committed to something, you accept no excuses; only results."
Commit to your career. Don't leave it up to chance. Together we can strategize how to design and build a career that you love.
There were ONLY ten (10) slots available for fast action takers who register for the Back To School Career Activation Strategy Session by July 31, 2020. The regular investment for this Career Activation Strategy Session is $297, but if you register in the next 4 days you can take advantage of a special offer of $97.00.
REGISTER TODAY and let's get to work!
Once the $97.00 payment is received, you will be sent a questionnaire via email to determine the focus and maximize our time together.
Schedule our Activation Session by July 31, 2020
Come to the Activation Session prepared for exploration and implementation.
REGISTER HERE!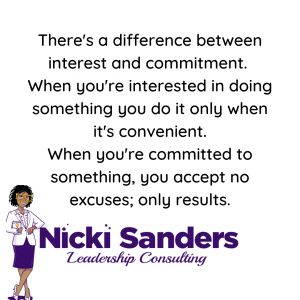 Nicki Sanders, MSW, CEO, is a travel and cupcake lover with an aptitude for authentic connection and career design. She has an extensive background in developing and managing successful programs and leading high-functioning multi-disciplinary teams. She is an accomplished professor, coach, trainer, and group facilitator who has merged her Master of Social Work degree and over 20 years of diverse work experience into a thriving business. Nicki Sanders Leadership Consulting helps businesses recruit and retain the best employees and helps women in mid-level management design the careers of their dreams.
© 2020 Copyright Protected. ALL RIGHTS ARE RESERVED.