STOP Wondering | Wishing | Waiting
START Planning | Activating | Resolving
STOP Overthinking | Overlooking | Overanalyzing
START Activating | Leveraging | Deciding
Are You In The Top 10?
You CAN Accelerate Your Career, But Only If You Take Action!
ACCELERATE – to fast track; gain speed; increase velocity
Top 10 Reasons to REGISTER for a Back To School Career Activation Strategy Session today:
You have the education, experience, and emotional intelligence to excel.
You started at the bottom and remained there longer than expected,
You are the "go to girl" in your company.
You have been passed over for a promotion you were more than qualified for.
You are a brand and your career is your business.
You deserve a career that fills your heart, head, and wallet.You are unsure if you are ready to take on a new role.
Deep inside you know that you are playing small.
You don't need anyone's permission to be great.
You are overworked and underpaid.
You are ready to transform your career.
Strategy Session Client Testimonial: "I believe I am actually ready and prepared to move on to what is next. I do not have to move in fear and remain in spaces that no longer serve or grow me. I am fully equipped with the knowledge and skills to take myself to the next level in my life. I do not have to settle, and I am deserving of my dreams even if it takes work and consistency to get there. The familiar place doesn't mean you are in a good place. This assessment helped me to realize change is good and I should open myself up to change in all areas of my life. This session turned the light bulb on for me."
The countdown is on! August is quickly approaching!
There are only seven (7) days remaining for fast action takers to take advantage of this special offer. The regular investment for a Back to School Career Activation Strategy Session is $297, but I am rewarding fast-action takers with a special offer of $97.00. Yes, you read that correctly. The first ten (10) women to register by July 31, 2020, will receive this special one-time offer of one on one career guidance for $97.00.
REGISTER TODAY and let's get to work!
Once the $97.00 payment is received, you will be sent a questionnaire via email to determine the focus and maximize our time together.
Schedule our Activation Session by July 31, 2020
Come to the Activation Session prepared for exploration and implementation.
REGISTER Today!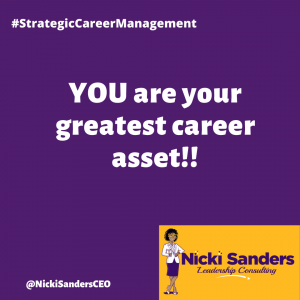 Nicki Sanders, MSW, CEO, is a travel and cupcake lover with an aptitude for authentic connection and career design. She has an extensive background in developing and managing successful programs and leading high-functioning multi-disciplinary teams. She is an accomplished professor, coach, trainer, and group facilitator who has merged her Master of Social Work degree and over 20 years of diverse work experience into a thriving business. Nicki Sanders Leadership Consulting helps businesses recruit and retain the best employees and helps women in mid-level management design the careers of their dreams.
© 2020 Copyright Protected. ALL RIGHTS ARE RESERVED.