I posted on Facebook recently that, "My mind, mood, and momentum are much better when I don't log onto Facebook". That is a complex fact. If I'm honest, Facebook is my least favorite social media platform. Although I admit that I occasionally love a cute baby video, I must also admit that my primary reason for being on any social media platform is not for mindless fun and socializing.
Of course, I have the power to simply not log on. I can make specific searches to change the algorithms so that the platform shows me different posts. I can join and remove myself from various groups. Those are surface solutions, however. I needed to ask myself why I really remained on social media and Facebook in particular. I determined that my purpose for social media is to Investigate, Inform, and Inspire.
Investigate – I am naturally curious and a true teacher. I am a seeker of facts and the amount of conspiracy theories and lies on Facebook cause concern and anger for me. I am always seeking to understand people and different perspectives, so I want to know what people are thinking. I don't want to live in a bubble of oblivion. I use social media as a research tool – even when I don't like what I find.
Inform – I have learned that people trust me to provide factual information. I also have the ability to explain complicated materials in a clear and nonthreatening manner. I have accepted my role as being an investigator and information sharer. This includes offering solutions, not just complaining.
Inspire – With all the turmoil going on in the world, maintaining our mental health is critical. I believe that there is always something to be thankful for and we can all use a bit of periodic entertainment and inspiration. As a teacher and business owner I want to be a hope for those who are seeking support and transformation. I make an effort to balance my social media posts with factual information and inspirational stories. There is proof that good is still happening in the world.
I've put the TV on for background noise a lot more while working at home during this pandemic and yesterday two TV shows had the song "What The World Needs Now" by Jackie DeShannon. I am grateful for the reminder that love always wins! The opening lyrics are:
What the world needs now is love, sweet love
It's the only thing that there's just too little of
What the world needs now is love, sweet love,
No not just for some but for everyone.
What is your primary reason for using social media?
Related: Where Can You Find Nicki on Social Media?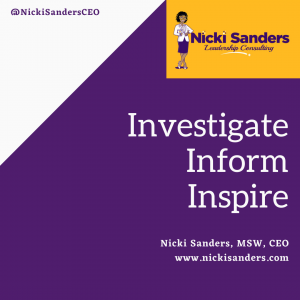 Nicki Sanders, MSW, CEO, is a travel and cupcake lover with an aptitude for authentic connection and career design. She has an extensive background in developing and managing successful programs and leading high-functioning multi-disciplinary teams. She is an accomplished professor, coach, trainer, and group facilitator who has merged her Master of Social Work degree and over 20 years of diverse work experience into a thriving business. Nicki Sanders Leadership Consulting helps businesses recruit and retain the best employees and helps women in mid-level management design the careers of their dreams.
© 2020 Copyright Protected. ALL RIGHTS ARE RESERVED.