I have been teaching undergraduate college courses since 2014. It is a labor of love! I love the engagement with my students. I love seeing their "aha" moments when they fully understand or apply a concept covered in class. I love the connections that continue after they have received their final grades. I love when they transition from college student to college graduate.
Like every teacher across the United States, I was forced to shift my in person course to online learning in March 2020. It was my first time teaching online and it was a transition for both myself and my students. Success required rethinking everything that I had already planned for the remainder of the semester. Another semi-voluntary first for me is that both my upcoming classes will be 100% online. My university is currently offering professional development training to help professors create quality distance education courses for Fall 2020. We have been in "back to school' mode since the beginning of the month. The stakes are high and time is running out!
My high-performing women who are mothers, teachers, administrators, and otherwise intimately connected to school systems, I know that you are also engrossed in what back to school will look like for your job and your home. The magnitude of weighing the mental and physical health of your family, education of your children, income for your household, and importance of your career in 2020 is unprecedented.
Do you need a job that allows you to telework?
Do you need a new work schedule that allows you to homeschool your children?
Do you need a job with a higher salary so you can hire a tutor?
Do you want a job that is not directly connected to education to decrease your risk for exposure to coronavirus?
Do you want to change jobs because you are unsure if your company will survive through the end of the year?
If you answered YES to any of the questions above, we need to talk. I can help you develop a strategy to satisfy your career needs and reach your career goals. If you are ready to eliminate overwhelm and forge full speed ahead, register for my Career Activation Strategy Session today.
Client Testimonial: "At the end of the session, I felt empowered and my mind felt stimulated. I am excited to explore different fields of work as I continue to look for what's next. I felt like I had a legit plan that would help me excel in this next job search."
I am making ten (10) slots available in my calendar for fast action takers who register between July 20 – July 31, 2020. The regular investment for this Career Activation Strategy Session is $297, but I am rewarding fast-action takers with a special offer of $97.00. Yes, you read that correctly. The first ten (10) women to register between July 20th and July 31st will receive this special one-time offer of one on one career guidance for $97.00. The Career Activation Strategy Session must be scheduled and redeemed by July 31, 2020. REGISTER TODAY and let's get to work!
Once the $97.00 payment is received, you will be sent a questionnaire via email to determine the focus and maximize our time together.
Schedule our Activation Session by July 31, 2020
Come to the Activation Session prepared for exploration and implementation.
REGISTER Today Using PayPal Button Below!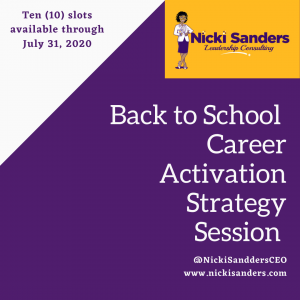 Nicki Sanders, MSW, CEO, is a travel and cupcake lover with an aptitude for authentic connection and career design. She has an extensive background in developing and managing successful programs and leading high-functioning multi-disciplinary teams. She is an accomplished professor, coach, trainer, and group facilitator who has merged her Master of Social Work degree and over 20 years of diverse work experience into a thriving business. Nicki Sanders Leadership Consulting helps businesses recruit and retain the best employees and helps women in mid-level management design the careers of their dreams.
© 2020 Copyright Protected. ALL RIGHTS ARE RESERVED.