A proper orientation is essential to setting your intern on the road to success.  An orientation can take anywhere from a couple hours to a couple of days.  Be sure not to overload your intern with information or paperwork.  If you have a lot to cover you will want to take breaks or schedule the orientation for more than one day.
Use this Checklist of Topics to Plan Your Intern's Orientation Session:
Welcome to Organization
History and Culture
Tour of Facility
Introductions (to leadership, staff, and other interns)
Human Resources Paperwork
Policies and Procedures outlined in Internship Handbook (compensation, attendance, conduct, performance, safety, etc.)
Training and Education
Questions from Intern
Next Steps
Contact me for additional information and assistance on developing a successful internship program.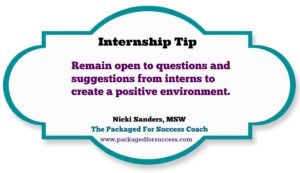 Nicki Sanders, The Packaged For Success Coach, is an Adjunct Professor with an extensive background in developing and managing internship programs. She is a skilled program manager, coach, trainer, and group facilitator who has packaged her Masters of Social Work degree and 20 years of work experience into Packaged For Success, a full service training and professional development company.
© 2016 Copyright Protected. ALL RIGHTS ARE RESERVED.