If you read my post "Managers Need Good Customer Service Skills Too" you will know that I expect to be treated well in any business that I patronize. I experienced poor customer service on my visit to my local office supply store. On the last journey of my 3 day business development retreat with the owner of It's Beauty and Braids, I stumbled upon a true gem.
I LOVE cupcakes. No, I really, really LOVE cupcakes. I was driving through a shopping center in Hampton, VA when I saw the word "cupcake" on a storefront. I stopped my car – literally. I don't pass up cupcakes. I also love trying new cupcakes. Ethereal Cupcakes and Coffee Shoppe was more than I imagined.
I stopped in and was welcomed into a great environment. There were of course dining tables, but there was also a sofa, large chairs at a coffee table, and even a cute movie nook. The cupcake selection (which changes daily) was awesome. The cupcakes are pretty big too. They even offer alcohol infused cupcakes for adults as well as vegan and gluten-free options. There were "regular" customers catching up with the staff and bringing in new customers. Newbies and regulars all received personal attention. The owner, baker, and the cashier were pleasant, engaging, and attentive. I purchased an awesomely delicious snickerdoodle cupcake but the customer service AMAZING. I received cupcakes and well wishes for my 3 hour ride home to Maryland. I wish I loved closer. I would definitely be a regular customer.
If you are in the Hampton, VA area, I recommend you stop in to Ethereal Cupcakes and Coffee Shoppe for a visit at Peninsula Town Center Mall, 3150 Allainby Way, Hampton, VA, 23666. They also cater and can be reached by telephone at 757-223-0300.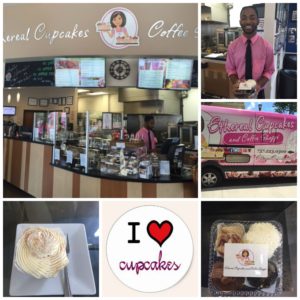 Nicki Sanders, The Packaged For Success Coach, is an Adjunct Professor with an extensive background in developing and managing internship programs. She is a skilled program manager, coach, trainer, and group facilitator who has packaged her Masters of Social Work degree and 20 years of work experience into Packaged For Success, a full service training and professional development company.
© 2016 Copyright Protected. ALL RIGHTS ARE RESERVED.