In addition to program development and management consulting, I also provide business development coaching to entrepreneurs as well as career development coaching to emerging professionals and professionals in the human services industry.
Today is the final day of a 3 day Business Planning Retreat with new entrepreneur and owner of "It's Beauty and Braids".  It's Beauty and Braids shares the best deals on bath and body, cosmetics, candles, and natural hair.  JaMai also supports busy entrepreneurs and professionals as a Personal Shopper, Event Assistant, Vendor Assistant, and Product Reviewer.  We focused on developing an entrepreneurial mindset, target market/branding, and networking/promoting your business.  [Our business development field trip to Yankee Candle Village in Williamsburg, VA was an excellent example of how to build a business empire. We discussed sustainability and adaptability on our visit to Barnes & Noble.]
Where are you ready to grow? I am accepting new business and career coaching clients. Let me help you find new clients, land an internship, get hired at the job of your dreams, or get the promotion you deserve.
I am accepting internship consulting projects in the following areas:
Launching a New Internship Program
Improving an Existing Internship Program
Hiring and Managing Interns
Team Building and Staff Retention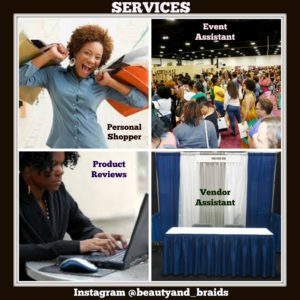 Nicki Sanders, The Packaged For Success Coach, is an Adjunct Professor with an extensive background in developing and managing internship programs. She is a skilled program manager, coach, trainer, and group facilitator who has packaged her Masters of Social Work degree and 20 years of work experience into Packaged For Success, a full service training and professional development company.
© 2016 Copyright Protected. ALL RIGHTS ARE RESERVED.