January 1, 2020 – the beginning of a new decade. It is also special because it begins and ends with the same two digits – like 1919, many of us may not see 2121. This year will definitely go down in the history books but necessarily for good reasons. The year 2020 has been fraught with disappointment, pain, uncertainty, and danger. Sometimes it feels like we are living in a real life horror movie and we are only six months into the year.
We have lost Kobe and Gianna Bryant, Betty Wright, Little Richard, and Andre Harrell.
Donald Trump was acquitted by the Republican-led Senate and avoided impeachment.
Covid-19 became a global health pandemic that resulted in mandatory quarantines and health precautions unseen during modern times as well as unprecedented illness and death.
Donald Trump and Joe Biden are the major candidates for the US 2020 presidential race.
Many well-known large corporations and successful small businesses are at risk of going out of business.
Travel and tourism, hospitality, theme park and the motion picture industries have come to a virtual standstill.
Ahmaud Arbery, Breonna Taylor, and George Floyd are a part of a long list of Black people murdered at the hands of police officers sworn to protect and serve.
Looters and agitators hijacked the Black Lives Matter protests and conservatives jumped on the opportunity to denounce the movement as a terrorist organization.
Despite worldwide challenge and tragedy, 2020 has given us an invaluable gift. The gift of 2020 is 20/20 vision.
Reflect – The mandatory quarantine has allowed us time to reflect on the things that matter most – family, job, health, and influence.
Reevaluate – Are you living a life that you love? Decide what kind of life you want to live and so no to everything that doesn't fit.
Remove – 2020 is not cancelled but we have taken time to remove the people, places and things that no longer serve us. Life is too short to prolong sadness and frustration.
What have you reflected on, reevaluated, and removed from your life this year?
I am grateful that 20/20 vision has allowed us to see clearly what matters most, where we have progressed and who and what we need to eliminate.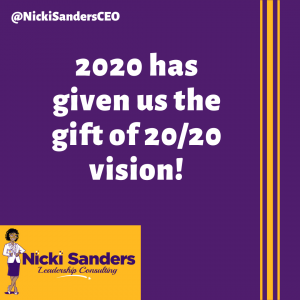 Nicki Sanders, MSW, CEO, is a travel and cupcake lover with an aptitude for authentic connection and career design. She has an extensive background in developing and managing successful programs and leading high-functioning multi-disciplinary teams. She is an accomplished professor, coach, trainer, and group facilitator who has merged her Master of Social Work degree and over 20 years of diverse work experience into a thriving business. Nicki Sanders Leadership Consulting helps businesses recruit and retain the best employees and helps women in mid-level management design the careers of their dreams.
© 2020 Copyright Protected. ALL RIGHTS ARE RESERVED.