All the experts and gurus have told you that it's time to pivot. The consensus is that somehow your grace period has ended. The truth is that it is very hard to pivot when you're overwhelmed, exhausted, confused or angry.
Although I am clear that this is not the time for me personally to be silent or withdraw my services, I fully understand that even when you know for sure it is time to move up or move on in your career, doing so is hard when you feel stuck emotionally.
As a Career Strategist:
I can help you design a long-term successful career.
I can help you improve your resume and cover.
I can help you prepare for job interviews and performance reviews.
I can help you package and present your brilliance to your supervisor or future supervisor.
I can help you navigate office politics.
I can also help you honor yourself and your needs.
Why is career development important when our worlds are in turmoil? Because our lives and livelihoods depend on our vocation. Earning a living wage so you can care for your family, being able to spend quality time with your family, having the skills to advance in your career, and being in a position where you can offer opportunities to other people of color is why this is important during this time
No doubt about it, these are extremely challenging times, so today I want to offer ways for you to protect your peace. 10 Ways to Protect Your Peace:
Rest and rejuvenate – get adequate sleep and quiet time
Disconnect from media and social media as needed
Allow yourself to feel your feelings and get help in processing them if needed
Spend time with people who uplift and support you (in person or virtually)
Take up a hobby
Take time to reflect and reevaluate your priorities and needs
Clean and/or clear your environment of clutter and unwanted items
Set realistic expectations of yourself and others
Get active – dance, exercise or spend time outside in nature
Focus on the things you can control
What are other ways that you protect your peace?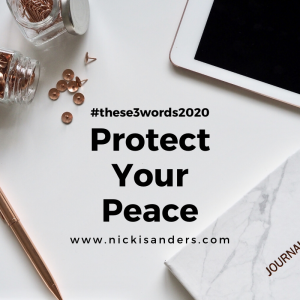 Nicki Sanders, MSW, CEO, is a travel and cupcake lover with an aptitude for authentic connection and career design. She has an extensive background in developing and managing successful programs and leading high-functioning multi-disciplinary teams. She is an accomplished professor, coach, trainer, and group facilitator who has merged her Master of Social Work degree and over 20 years of diverse work experience into a thriving business. Nicki Sanders Leadership Consulting helps businesses recruit and retain the best employees and helps women in mid-level management design the careers of their dreams.
© 2020 Copyright Protected. ALL RIGHTS ARE RESERVED.