My birthday gift to you was more of me!
On April 8th I kicked off the Uplevel Your Position 7-Day Career Development Challenge. I hope you were able to join me. You can check out the daily videos below.
Uplevel Your Position Career Development Strategies:
Does this sound like you?
You are unsure what you want to do next?
You're unsure if you can achieve your career goals?
You want to be more visible in the workplace?
You're unsure how to improve your online presence?
SPECIAL ANNOUNCEMENT: The Uplevel Your Position Challenge was a quick introduction to seven proven career development strategies. On May 4, 2021, I am launching the Uplevel Your Position Email Course so that I can give you a deep dive into each strategy. Enrolling in the inner work will lead to the outer results you desire.
I understand the frustration and confusion that career planning can produce and that is the reason that I created the Uplevel Your Position Email Course.
The Uplevel Your Position Email Course offers:
Video recommendations to customize and implement each strategy
Worksheets to accompany each video and strategy
The convenience of working at own pace
A decrease in career planning stress and overwhelm
An opportunity to learn from my mistakes and the mistakes of my clients
A surprise bonus
If you want to elevate your career confidence and competence, join the Uplevel Your Position Email Course for $67.00 through April 30, 2021. The price increases to $97.00 after April 30th.
REMINDER: The course launches on May 4, 2021. PREREGISTRATION is OPEN!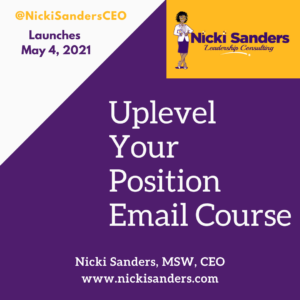 Nicki Sanders, MSW, CEO, is a Career and Empowerment Strategist who helps high-performing women of color in management go from overworked, underpaid, and unappreciated to energized, well paid, and appreciated. Through Nicki Sanders Leadership Consulting, she also helps businesses recruit, hire, train, and retain great employees. Nicki has an extensive background in developing and managing successful programs and leading high-functioning multi-disciplinary teams. She is an accomplished professor, coach, trainer, and group facilitator who has combined her gift for authentic relationships, Master of Social Work degree, and over 20 years of diverse work experience to create a life she loves. Nicki is a lover of cupcakes, travel, and 80's hip hop and R&B music.
© 2021 Copyright Protected. ALL RIGHTS ARE RESERVED.