Complaining about your job, your workload, your colleagues, or your supervisor may give you momentary relief but it damages your career in the long-term. People are less likely to trust that you are not also complaining about them. Your colleagues may begin to avoid you or try to not work with you because your negative energy is draining. You may be seen as a whiner who is unproductive or unable to perform your job. You decrease your chances of receiving a great performance appraisal or glowing letter of recommendation. There is a better way!
When my daughter was young, I purchased a Fisher Price Dream Dollhouse. I went to 3 different Toys R Us toy stores in search of the African American family for my African American daughter. Each store I visited had the Caucasian family available for purchase. After I tired of giving up hours of my time and using up my gas on this quest, I decided to go directly to the sources – Fisher Price and Toys R Us.  I wrote letters to both Fisher Price and Toys R Us and explained by disappointment and desire to purchase the toys. This was long before the days of email and social media so I had to do a little investigative work to get the letters to the right people. I used the GAPS Method in drafting the letters. My letters were successful. Both companies responded. The outcome was that I received two sets of the Black family for my daughter at no cost – one from Fisher Price and one from Toys R Us. I donated one to another little Black girl who deserved to see herself represented.
What is the GAPS Problem Solving Method?
G – Clarify The Goal You're Working Toward
A – Take Strategic Action
P – Pinpoint The Problems
S – Offer Solutions
Goal – My goal was to purchase a dollhouse family that was representative of my daughter's race. 
Action – I went to 3 different locations of the largest and most popular toy store (at that time)
Problem – After extensive searching, I could not find toys representative of the customers in the communities where the stores were located.  I explained my disappointment as well as the buying power of people of color.
Solution – I did not just complain in the letters. My recommended solution was that Fisher Price create more families of color toys and that Toys R Us ensure that the toys are available in communities of color so children of color will see that they are important enough to be represented.    
You can incorporate the GAPS Method in your one on one meetings with your supervisor, during your performance evaluation, and in response to common interview questions with the help of your Career Achievement Log. The Career Achievement Log Toolkit allows you to save time and frustration with the important details of your work at your fingertips, increase your confidence as you see your career contributions in one place and have meaningful stories to share in your performance review or on your next job interview.
Grab Yours And Begin To Document Your Achievements Today!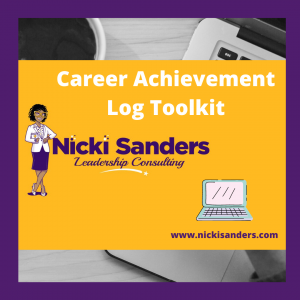 Nicki Sanders, MSW, CEO, is a travel and cupcake lover with an aptitude for authentic connection and career design. She has an extensive background in developing and managing successful programs and leading high-functioning multi-disciplinary teams. She is an accomplished professor, coach, trainer, and group facilitator who has merged her Master of Social Work degree and over 20 years of diverse work experience into a thriving business. Nicki Sanders Leadership Consulting helps businesses recruit and retain the best employees and helps women in mid-level management design the careers of their dreams.
© 2020 Copyright Protected. ALL RIGHTS ARE RESERVED.