The biggest mistake I made in my career was hiding in the background. As an employee, I have always done everything in excellence. Not bragging, just telling my truth. I'm a great employee. My work has always been noticed, but unless you were working with me or close to me, there was a time when you may not have known that I was the person responsible for the awesomeness. I am the quintessential team player who has not always taken credit for my many contributions. Those days are over!!
Another mistake I made in my career, that I warn my clients about is not commanding the money that I deserve based on my education, diverse experience, and skillset. Yes, being underpaid is the second biggest mistake I made in my career. I had to decide if accepting low wages was worse than lurking in the background and I think it was. I came to this decision because if I had made an effort to be more visible, I would have used that leverage as part of my salary negotiation much sooner.
The third mistake that I made was becoming emotionally attached to my job. I took on more than I should have mentally, physically, and emotionally and experienced compassion fatigue and burnout as a result. Instead of establishing healthy boundaries and practicing quality self-care, I juggled multiple tasks, used myself as a shield, and ignored my professional needs to ensure that my staff, program participants, and the agency continued to excel. I was completely off balance. The more those entities thrived, the more I diminished.
Let's Recap. My 3 Biggest Career Mistakes Were:
Hiding in the background
Accepting low wages
Becoming emotionally attached to my job
What is the biggest mistake you have made in your career?
Are you following my Uplevel Your Position 7-Day Career Development Challenge on the Nicki Sanders Leadership Consulting Facebook page?
If you want support in minimizing the impact of career pitfalls and avoiding mistakes that could derail your career trajectory before the career challenge ends, schedule a Career Activation Strategy Session.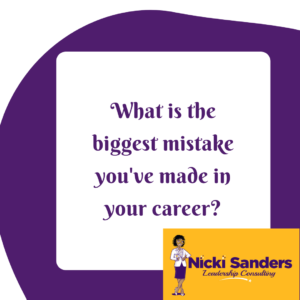 Nicki Sanders, MSW, CEO, is a Career and Empowerment Strategist who helps high-performing women of color in management go from overworked, underpaid, and unappreciated to energized, well paid, and appreciated. Through Nicki Sanders Leadership Consulting, she also helps businesses recruit, hire, train, and retain great employees. Nicki has an extensive background in developing and managing successful programs and leading high-functioning multi-disciplinary teams. She is an accomplished professor, coach, trainer, and group facilitator who has combined her gift for authentic relationships, Master of Social Work degree, and over 20 years of diverse work experience to create a life she loves. Nicki is a lover of cupcakes, travel, and 80's hip hop and R&B music.
© 2021 Copyright Protected. ALL RIGHTS ARE RESERVED.