What does that mean?
Tell me more about that?
Where do you think that came from?
"Working with Nicki has been truly amazing! She challenged me to think deeper about my career and what I want for my life. She gave me tools to create a portfolio and to help me see all the work I have done so that I am able to articulate my accomplishments during a job interview. I appreciate the time we spent together!!"
-Aleia Mays, MSW, MPH
"It is a great pleasure working with Nicki. She always nudges me to the "why" of my pursuit or goal. She helps me to ask myself powerful questions and set attainable short-term and long-term goals. Her knowledge, insight, and encouragement compel me to be accountable to myself!"
-Karen Woodson, Ministry Leader
I ask my clients a lot of questions. My job is not to provide them all the answers but to help them recognize their unique best career solutions through exploration, examples, and encouragement.

Are you clear on your core values, your worth and contributions, and reasons for doing the work that you do in the way that you do it? ⠀⠀⠀
There is little career acceleration without self-reflection, self-awareness, and self-determination. It's past the time to prioritize yourself and your career. ⠀⠀
-Know Your Values⠀⠀
Your values are your guiding light. Your values will determine what you deem important and also what you deem unacceptable. Your values determine who you connect with and why as well as what companies you work with and jobs you accept.
Question: What are your top 3 core values and how do you express them in your career?
-Know Your Worth⠀⠀⠀⠀⠀⠀⠀⠀⠀
Your confidence, self-esteem, and career outlook are all affected by the value you believe you bring and impact you believe you can make. How you present and promote yourself as well as what jobs you apply to and the salary you negotiate are all based on what you believe you are worthy of receiving. Knowing your worth determines how fast you climb the career ladder and how far you climb.
Question: What three words best describe you as a professional and what is your greatest professional achievement? ⠀⠀⠀


-Know Your Why⠀⠀⠀⠀⠀⠀⠀⠀⠀
Your why is your purpose. Many people say their "why" is their family or children. I think they are your "who" but your why is different. Your why is specific and is about behavior or action. What do you want to do for your children or what do you want them to have or avoid?
Question: Why are you applying for this Senior Director position?
Answer: I am applying for this Senior Director position because I want my daughter to know that women can be great leaders.

Today is Day 3 of my 'Uplevel Your Positon' 7-Day Career Development Challenge. Join me on Nicki Sanders Leadership Consulting's Facebook page for daily strategies delivered by video.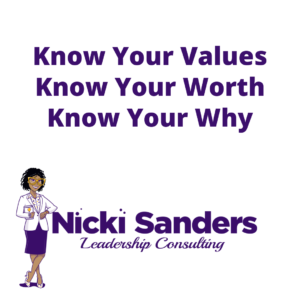 Nicki Sanders, MSW, CEO, is a Career and Empowerment Strategist who helps high-performing women of color in management go from overworked, underpaid, and unappreciated to energized, well paid, and appreciated. Through Nicki Sanders Leadership Consulting, she also helps businesses recruit, hire, train, and retain great employees. Nicki has an extensive background in developing and managing successful programs and leading high-functioning multi-disciplinary teams. She is an accomplished professor, coach, trainer, and group facilitator who has combined her gift for authentic relationships, Master of Social Work degree, and over 20 years of diverse work experience to create a life she loves. Nicki is a lover of cupcakes, travel, and 80's hip hop and R&B music.
© 2021 Copyright Protected. ALL RIGHTS ARE RESERVED.