An Instagram post from Mahdi Woodard (@mahdiwoodard) stopped my scrolling and forced me to re-evaluate my goals!
"There's nothing admirable about writing down and checking off goals you know you can hit. If pursuing your goals doesn't force you to grow into a new person, congratulations, you have made a to-do list." – Mahdi Woodard
In early March, I took a pause and hit the reset button because I was feeling super grateful for my life and blessings but unmotivated in my business. The world was coming to the one-year anniversary of a global health pandemic and I had begun 2021 doing what was easy and easily achievable. Seeking safety and security because of coronavirus led me to shut the door on various connections and opportunities. Reading that post led to a deeper level of self-reflection and I realized that I had stopped dreaming big and started writing to do lists from inside my comfort zone.
The comfort zone is a dangerous place to be. Fear, stagnation, and monotony live in your comfort zone. Evolution, inspiration, and advancement are shut out of your comfort zone. Avoidance, complacency, and busyness live in your comfort zone. Motivation, productivity, and joy are shut out of your comfort zone. The truth is that you were made for more – you know it and you want it. It's time to go after it.
Step 1 is to decide exactly what you want.
What are the most important factors in deciding what your next career move will be?
Employer?
Compensation Package?
Professional Challenge?
Opportunities for Growth?
Location?
Work Schedule?
Autonomy?
Step 2 is to believe that you can have it.
Making career decisions based solely on safety and security will lead to career self-sabotage. Playing it safe often leads to playing small. Don't let fear be the deciding factor in your decision-making process.
Are you ready to set new goals and take strategic action to advance your career?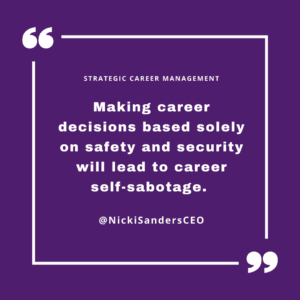 Nicki Sanders, MSW, CEO, is a Career and Empowerment Strategist who helps high-performing women of color in management go from overworked, underpaid, and unappreciated to energized, well paid, and appreciated. Through Nicki Sanders Leadership Consulting, she also helps businesses recruit, hire, train, and retain great employees. Nicki has an extensive background in developing and managing successful programs and leading high-functioning multi-disciplinary teams. She is an accomplished professor, coach, trainer, and group facilitator who has combined her gift for authentic relationships, Master of Social Work degree, and over 20 years of diverse work experience to create a life she loves. Nicki is a lover of cupcakes, travel, and 80's hip hop and R&B music.
© 2021 Copyright Protected. ALL RIGHTS ARE RESERVED.