Welcome to April!
I am filled with gratitude and counting down to a special birthday!
Here is a recap of March 2021 National Social Work Month and Women's History Month focus!
I'm grateful for these awesome women in social work who contributed to my article, 'Sharing Our Voices: Social Work is Essential':
Nikole Donovan, LMSW
Sydney Wilson, MSW
Aleia Mays, MSW, MPH
Katrina Foreman, LMSW
Laila El-Asmar, LCSW-C
My 2021 focus of my Annual Social Work Month Blog Series is women entrepreneur social workers. Thank you to these amazing women:
Kenia Maldonado, LMSW
Portia Rouse, LCSW-C
Katherine Spinney, MSW
Check out the article and LISTEN to the audio interview conversations using the following links:
Annual Social Work Month Blog Series
2020 – Millennial Social Workers
2019 – Social Work Managers
2018 – Women in Social Work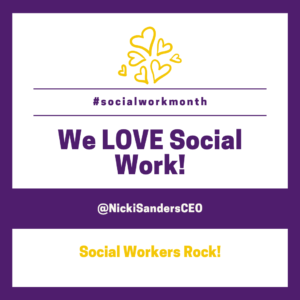 Nicki Sanders, MSW, CEO, is a Career and Empowerment Strategist who helps high-performing women of color in management go from overworked, underpaid, and unappreciated to energized, well paid, and appreciated. Through Nicki Sanders Leadership Consulting, she also helps businesses recruit, hire, train, and retain great employees. Nicki has an extensive background in developing and managing successful programs and leading high-functioning multi-disciplinary teams. She is an accomplished professor, coach, trainer, and group facilitator who has combined her gift for authentic relationships, Master of Social Work degree, and over 20 years of diverse work experience to create a life she loves. Nicki is a lover of cupcakes, travel, and 80's hip hop and R&B music.
© 2021 Copyright Protected. ALL RIGHTS ARE RESERVED.