For years I never described myself as a feminist because there are definitely negative connotations attached to the term. Black women have historically (and often currently) been excluded from the Women's Suffrage Movement and feminism in general. We've also seen extreme feminists who appear to hate men. I accepted the term in my 40's because I get to decide what it means to me. Many of my students describe themselves as womanists. I guess I can accept that label as well because I am absolutely against patriarchy and sexism. At the end of the day, I am an advocate for women and girls and I believe that women should have equal opportunities and equal access to the same resources that men have. Equity and equality!
With that being said, I don't have a favorite female musical artist or group in any genre. It's so odd to me – especially with so many empowering songs by and for women. I like and even love some songs by women but I literally have no favorite woman musician.
Who is your favorite female artist or group? What is your favorite song by a female artist or group? What is your favorite women's empowerment song?
To celebrate Women's History Month 2021, I want to share my 21 favorite songs by women (in no particular order).
Better Days – Phyllis Hyman
Count On Me – Whitney Houston and CeCe Winans
I Feel Good – Stephanie Mills
Not Gon Cry – Mary J. Blige
Never Gonna Let You Go – Faith
Weak – SWV
I"m Every Woman – Chaka Khan/Whitney Houston
Let's Hear It For The Boy – Deniece Williams
I Feel For You – Chaka Khan
Come Share My Love – Miki Howard
Shoop – Whitney Houston
Heard It All Before – Sunshine Anderson
Superwoman – Karyn White
Keep On Walking – Cece Peniston
Xscape – Understanding
Make It Like It Was – Regina Belle
For You I Will – Monica
Ladies First – Monie Love
My Mic Sounds Nice – Salt & Pepa
Video – India Arie
If I Ain't Got You – Alicia Keys
I guess you've noticed that my favorite music is "old school"?
Related: How Are Music Choices Related To Career Choices?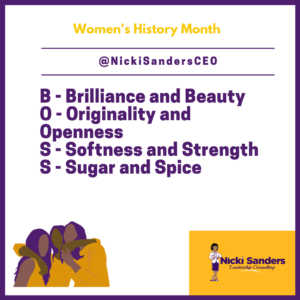 Nicki Sanders, MSW, CEO, is a Career and Empowerment Strategist who helps high-performing women of color in management go from overworked, underpaid, and unappreciated to energized, well paid, and appreciated. Through Nicki Sanders Leadership Consulting, she also helps businesses recruit, hire, train, and retain great employees. Nicki has an extensive background in developing and managing successful programs and leading high-functioning multi-disciplinary teams. She is an accomplished professor, coach, trainer, and group facilitator who has combined her gift for authentic relationships, Master of Social Work degree, and over 20 years of diverse work experience to create a life she loves. Nicki is a lover of cupcakes, travel, and 80's hip hop and R&B music.
© 2021 Copyright Protected. ALL RIGHTS ARE RESERVED.