I love music. I listen to music every day – on my TV, on my cellphone, and in my car. Music is a permanent part of my self-care plan.
My musical taste is specific – and some may even consider it narrow. I love all Christmas music, but R&B, hip hop, and gospel are my jam. I'm not into pop or country or house or classical or folk or heavy metal or opera.
I love what is now considered old school R&B – the 80's and 90's and few songs from the 2000's. My favorite is New Edition – hands down, no comparison. Next is Boyz II Men. Babyface and Keith Sweat were a big part of my teenage years and their music will forever be golden. I am an old school 80's hip hop girl – LL Cool J, Run DMC, Whodini, and Doug E. Fresh. I actually don't have a favorite female artist.
I also love gospel music. I super love Fred Hammond – I love Fred like I love New Edition. Jonathan McReynolds, Brian Courtney Wilson, and Anthony Brown and Group Therapy are on constant repeat and on my love list. I also don't have a favorite female gospel artist, but I really like the music of Jekalyn Carr and Jessica Reedy. My musical preferences span traditional to quartet to contemporary gospel. I also love hymns.
My music is serious business. I am from the original generation that recorded mix tapes from the radio. I was a regular purchaser of compilation CDs. I loved that I could fit thousands of songs on my iPod and create playlists to burn on CDs to listen to in my car. I currently have numerous playlists on my phone and have progressed to Pandora and Spotify. No matter the medium, my playlists have themes and a specific flow. I also curate music for different moods or life events.
Spotify creates curated playlists based on my listening patterns and artist preferences but cannot duplicate my thought process. An example is that I group slow music together and fast music together. Another example is that I don't mix musical genres. Spotify will create a playlist with Can You Stand the Rain by New Edition followed by Jesus Be A Fence by Fred Hammond then add I'm Bad by LL Cool J. I would never LOL. My music playlists have a smooth transition as well as songs with similar messages or lyrics. An example is This Week by Anthony Brown and Group Therapy followed by Open Door Season by Detrick Haddon or these songs may begin and end the playlist based on the vibe I'm aiming for with the music.
What is the purpose of me telling you all of this?
This is another reminder that your career should be specially created or curated based on your individual needs, desires, preferences, and goals. This is your permission to make your career journey as unique as your fingerprints – and your music playlists.
If you need support and accountability with crafting the career of your dreams, contact me to schedule a free consultation..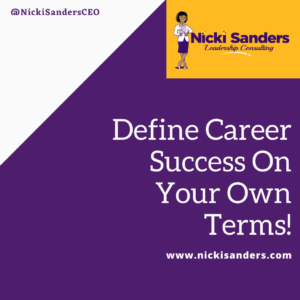 Nicki Sanders, MSW, CEO, is a Career and Empowerment Strategist who helps high-performing women of color in management go from overworked, underpaid, and unappreciated to energized, well paid, and appreciated. Through Nicki Sanders Leadership Consulting, she also helps businesses recruit, hire, train, and retain great employees. Nicki has an extensive background in developing and managing successful programs and leading high-functioning multi-disciplinary teams. She is an accomplished professor, coach, trainer, and group facilitator who has combined her gift for authentic relationships, Master of Social Work degree, and over 20 years of diverse work experience to create a life she loves. Nicki is a lover of cupcakes, travel, and 80's hip hop and R&B music.
© 2021 Copyright Protected. ALL RIGHTS ARE RESERVED.