"I want every little girl who is told she is bossy to be told she has leadership skills." – Sheryl Sandberg
Nice – pleasant; agreeable; satisfactory
Remember the children's tale that asked, "What are little girls made of"? Do you remember that the answers is, "sugar and spice and everything nice"?
What is everything nice?
Nice as in passive?
Nice as in quiet?
Nice as in appropriate?
Nice as in stay in your place and don't rock the boat?
Ummm…NO! The truth is that well-behaved women rarely make history like these awesome ladies have done. Our "place" is anywhere we choose to be. Our voices need to be heard. We are decision-makers, trendsetters, connectors – we are leaders!
Rosa Parks
Malala Yousafzai
Marian Anderson
Amelia Earhart
Stacey Abrams
Amy Tan
Ruth Bader Ginsburg
Ruby Dee
Hillary Clinton
Nannie Helen Burroughs
What are little girls who become amazing women really made of?
B.O.S.S. Sauce
B – Brilliance and Beauty
O – Originality and Openness
S – Softness and Strength
S – Sugar and Spice
Sauce
Think like a B.O.S.S.! Speak like a B.O.S.S.! Live like a B.O.S.S.!
Women's History Month Recommendations: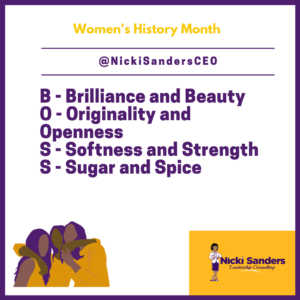 Nicki Sanders, MSW, CEO, is a Career and Empowerment Strategist who helps high-performing women of color in management go from overworked, underpaid, and unappreciated to energized, well paid, and appreciated. Through Nicki Sanders Leadership Consulting, she also helps businesses recruit, hire, train, and retain great employees. Nicki has an extensive background in developing and managing successful programs and leading high-functioning multi-disciplinary teams. She is an accomplished professor, coach, trainer, and group facilitator who has combined her gift for authentic relationships, Master of Social Work degree, and over 20 years of diverse work experience to create a life she loves. Nicki is a lover of cupcakes, travel, and 80's hip hop and R&B music.
© 2021 Copyright Protected. ALL RIGHTS ARE RESERVED.