Here in the United States, we are officially a full year into the Coronavirus pandemic. Sadly, over 500,000 Americans have lost their lives to this virus. Unfortunately, there are still people who believe that COVID-19 is fake, others who have just decided that the virus is real but not a threat to them, and still others who think that common sense measures to help prevent the spread of the virus infringes upon their civil rights. ("Mask or face covering required" doesn't infringe on anyone's civil rights and is no more invasive than "shirts and shoes required"!) It's a shame that we allowed this virus to be politicized and did not follow the science. It's even more unacceptable that the division continues.
March 6, 2020 – I flew home from Atlanta after presenting at the Millennial Social Work Conference (I was nervous but cautious.)
March 8, 2020 – The last time I was in a church building (Just so we're clear, we are the church)
March 16, 2020 – The last time I was in an airport and on an airplane (By this time my anxiety was through the roof.)
Have I adapted well to this new normal?
Each day can bring a new emotion – and often has.
I am sure that it is OK not to be OK – unless it is prolonged and frequent.
I now know that I can miss both solitude and distance at the same time.
There are parts of the old normal that I don't want to return to.
How are you doing? Really?
This country has experienced so much uncertainty, death, heartache, hardship, and political discourse. When I think back over the year, feelings of anxiety, anger, and sadness arise first. I also feel love, gratitude, curiosity, and hope.
Many people have been very intentional not to "brag" about how well they have done this year so that they do not seem insensitive or ignorant of the suffering of the masses. I agree with not bragging, but also feel it is essential to give God praise for keeping me during this year. My needs are always exceeded.
My family and friends are safe and healthy.
My bills have all been paid and paid on time.
My home was cool in the summer and warm in the winter.
I have never missed a meal (or a dessert LOL) during the pandemic.
My every household and personal hygiene need has been met.
I'm sure that I've added a little more length to the life of my car since I have driven so little over this year.
I was able to be paid to do work that I love.
I am able to use technology to my advantage.
I've learned new things and expanded my professional network.
I am thankful, grateful, and blessed.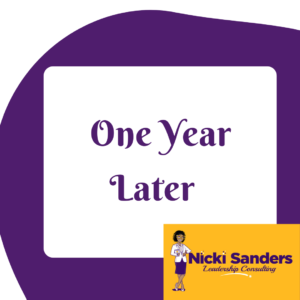 Nicki Sanders, MSW, CEO, is a Career and Empowerment Strategist who helps high-performing women of color in management go from overworked, underpaid, and unappreciated to energized, well paid, and appreciated. Through Nicki Sanders Leadership Consulting, she also helps businesses recruit, hire, train, and retain great employees. Nicki has an extensive background in developing and managing successful programs and leading high-functioning multi-disciplinary teams. She is an accomplished professor, coach, trainer, and group facilitator who has combined her gift for authentic relationships, Master of Social Work degree, and over 20 years of diverse work experience to create a life she loves. Nicki is a lover of cupcakes, travel, and 80's hip hop and R&B music.
© 2021 Copyright Protected. ALL RIGHTS ARE RESERVED.