National Employee Appreciation Day on the first Friday in March each year focuses attention on employees in all industries. We celebrate on today March 5, 2021. Every great CEO and manager understands that their employees are their greatest asset. Employers across the country in business and organizations plan employee recognition and celebrations to honor the people who toil day after day to build products, sell and deliver services, help customers, solve problems, and drive business results.
Employee engagement and retention are predicated on an employee feeling valued and being acknowledged for their contributions in ways both large and small. Recognition and increase morale in the workplace. An employer may show their gratitude for an employee's efforts and contributions to the company's goals in a variety of ways.
Five ways to recognize and appreciate employees:
Acknowledgement in company email or newsletter
Gift card
Flexible work schedules
Celebrate milestones like birthdays and work anniversaries publicly
Develop a long-term employee recognition program
Self-check:
Do you feel appreciated by your supervisor or company today?
Did you receive an employee appreciation recognition or gift today?
Are you expecting it?
What would be acceptable?
Were you asked what you would enjoy?
If you're tired of being overworked, underpaid, and unappreciated, let me help you level up in your career. It doesn't have to be this way.
You deserve a well-balanced work and career life, adequate compensation, and respect and recognition on the job. In addition to individual counseling packages, I have developed services to help you in each stage of your career. Let's get to work!!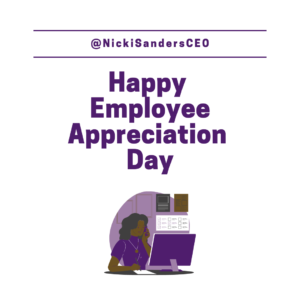 Nicki Sanders, MSW, CEO, is a Career and Empowerment Strategist who helps high-performing women of color in management go from overworked, underpaid, and unappreciated to energized, well paid, and appreciated. Through Nicki Sanders Leadership Consulting, she also helps businesses recruit, hire, train, and retain great employees. Nicki has an extensive background in developing and managing successful programs and leading high-functioning multi-disciplinary teams. She is an accomplished professor, coach, trainer, and group facilitator who has combined her gift for authentic relationships, Master of Social Work degree, and over 20 years of diverse work experience to create a life she loves. Nicki is a lover of cupcakes, travel, and 80's hip hop and R&B music.
© 2021 Copyright Protected. ALL RIGHTS ARE RESERVED.