Social work is about helping people. Social workers are essential to community well-being, which is why the theme for this year's Social Work Month is Social Workers Are Essential!
I taught Introduction to Social Work virtually last semester. We discussed ways the Covid-19 pandemic has impacted the US economy. Four ways include:
• Record unemployment
• Business Closures
• New Business Operations
• The Gig Economy
I then asked the following questions:
• Are there occupations that we (USA) don't value?
• What is an essential employee?
• Are there occupations that are more respected since the coronavirus pandemic?
I believe that social worker is an appropriate response to each question.
Social workers do more than therapy and child protection. We resent being referred to as baby snatchers LOL. Social workers are essential. Did you know that there are three levels of social work intervention?
Micro – One on one therapeutic work with clients (Private Practice Clinician)
• These practitioners help individuals with social, emotional, or health-related struggles.
Mezzo – Works with whole communities (Community Organizer)
• Clients can be neighborhoods, religious communities, or political- or cause-driven groups.
Macro – Observational Process (Support Group Facilitator)
• Involves working with small groups of people or institutions
Other titles held by social workers include case manager, program director, community liaison, substance abuse counselor, executive director, child advocate, lobbyist, and the list goes on and on. We are diverse and versatile!
Social work sets me apart from other career coaches. What makes me a great social worker? Here are my top 5 skills.
-Empathy
-Critical Thinking Skills
-Innovation
-Good Communication (including active listening)
-Commitment
What makes you a great social worker?
Related:
Nicki Sanders: From Director of Programs to Leadership Consultant
Nicki Sanders: From Internship Supervisor to College Professor
Nicki Sanders: From Hiring Manager to Career Strategist
Conversation with Nicki Sanders of Nicki Sanders Leadership Consulting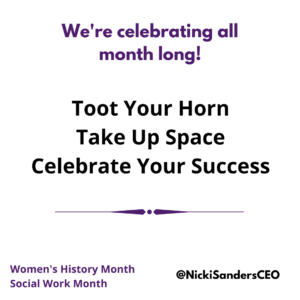 Nicki Sanders, MSW, CEO, is a Career and Empowerment Strategist who helps high-performing women of color in management go from overworked, underpaid, and unappreciated to energized, well paid, and appreciated. Through Nicki Sanders Leadership Consulting, she also helps businesses recruit, hire, train, and retain great employees. Nicki has an extensive background in developing and managing successful programs and leading high-functioning multi-disciplinary teams. She is an accomplished professor, coach, trainer, and group facilitator who has combined her gift for authentic relationships, Master of Social Work degree, and over 20 years of diverse work experience to create a life she loves. Nicki is a lover of cupcakes, travel, and 80's hip hop and R&B music.
© 2021 Copyright Protected. ALL RIGHTS ARE RESERVED.