Words have power…choose and use them wisely.
Manifestation is real…use it intentionally.
God's favor isn't fair…accept it graciously.
I have always been a teacher. It probably started during my years as a student at Trinity College that I would randomly but frequently say "I'm going to teach a college course one day". Now, we all know that one day is not a day of the week. I do believe that I said that phrase so many times that I manifested it into my life.
I decided to launch an internship program with my former employer to help prepare and train the next generation of human services professionals and also to have a strong pipeline of employees. I reached out to several local higher education institutions and one of them was my alma mater, Trinity Washington University (formerly Trinity College). I was invited to speak to graduating seniors enrolled in Senior Seminar all of whom were required to complete an internship, How many of you know that although my email was unexpected and appeared random, the invitation to present was not coincidental. The timing was perfect because things were aligning on my behalf.
When I walked into the classroom I was surprised to be in a room full of students of color because my experience on campus was very different. I was a minority at Trinity College (Nancy Pelosi is also an alumni) but Trinity Washington University is now a majority minority institution. I shared my professional background, presented the internship opportunity, and answered questions. I had lunch and a discussion with the professor (who had also been my professor over a decade earlier) about my work with women and girls of color, gentrification in Washington, DC, and the educational and socio-economic challenges students were encountering – especially first generation college students. I shared my research, education, and training but also my personal experience as a first generation college student at Trinity. I remember the professor saying "You Think like a Social Researcher". Of course, I have a Bachelor's degree in Sociology. We continued to talk about some challenges the university was encountering as well and I offered strategies. The professor then said, "I would love to co-teach a class with you". I assured her that I would be honored and we continued our discussion over lunch. During lunch she said, "You should be teaching your own class". I assured her that I would love to teach my own course to address the needs we had discussed. We talked further about my previous experience teaching, training and facilitating workshops and she said she would make a recommendation to the department chair. She kept her word. And I served as internship supervisor to three of her students that semester.
Weeks later I had drafted a course proposal, submitted the proposal along with an adjunct professor application, and had an interview with the department chair. Soon after that interview I was hired to teach a course the following semester that I created to address (1) the needs the students were having academically and post graduation, (2) the nonacademic challenges the university was encountering, (3) the workforce gap in my agency, and (4) my personal values and mission.
When you stay ready you don't have to get ready. Although I walked into that classroom for one reason, I walked out with the opportunity to achieve a professional goal.
That is how I went from Internship supervisor to college professor. How did you select your current occupation?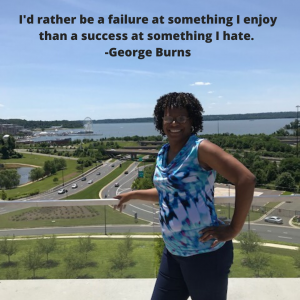 Nicki Sanders, MSW, CEO, is a travel and cupcake lover with an aptitude for authentic connection and career design. She has an extensive background in developing and managing successful programs and leading high-functioning multi-disciplinary teams. She is an accomplished professor, coach, trainer, and group facilitator who has merged her Master of Social Work degree and over 20 years of diverse work experience into a thriving business. Nicki Sanders Leadership Consulting helps businesses recruit and retain the best employees and helps women in mid-level management design the careers of their dreams.
© 2020 Copyright Protected. ALL RIGHTS ARE RESERVED.