Statistically, most people secure their jobs through their network. Every job I have ever secured in my adult life has been from a public advertisement except one. I have always been intentional about my career trajectory. When I look back at my career, I have secured every job that I really wanted. Even if I did not get it right away.
I entered the field of social work to serve teen mothers in foster care in residential programs. After earning my bachelor's degree, I applied for a full-time position in a residential program that served teen moms in foster care but didn't get the job. A short time later I was offered that same job in a temporary capacity as the agency had lost its funding and that program was closing. I remained until the end. A year later I was hired as a Parenting Counselor in a different residential program with the same agency serving but 18–24-year-old moms.
As a recent college graduate, I attended a teen parent conference that was well thought out and well put together for both teen moms and professionals who serve them. Not long after, I interviewed for a position as a program facilitator with the agency who hosted the conference. The Director of Programs did not hire me. After I earned my master's degree, I only applied for one job. I secured that job and became the Director of Programs with that same agency where I wasn't hired prior. I was a part of the senior management team responsible for hiring and supervising the program facilitators and served as co-chair of the same teen parent conference.
I have always loved my work and done work that aligned with my desires and values – even though sometimes I had to put forth a little more effort to maintain my motivation and optimism in the waiting periods.
Rejection sucks! The job search process can be long and stressful and discouraging. Here are 4 things you can do when you keep getting passed over.
1. Get understanding. Ask for feedback and spend a bit of time evaluating your employment package and interview preparation. There is alarmist always room for improvement.
2. Feel your feeling late but don't wallow in embarrassment or rejection. Let go of the pain. You need to refuel to get to your goal.
3. Get the support you need. Access your support system and professional network. Adjust as needed including hiring a career coach or spending less time with negative people.
4. Don't give up on the goal. Believe you will succeed. Evaluate your strategy and keep moving forward. 
Let's do a quick check in.
-Are you feeling encouraged or discouraged in your current job search?
-Do you feel like you're making progress in your career?
-Do you desire additional accountability and support as your travel your unique career path?
Here are 4 quick strategies to move you in the direction of your dream career:
Get clear about what you want in a position/career.
Take inventory of your accomplishments, skills, and talents.
Narrow your search to companies/agencies that fit your criteria.
Upgrade your employment documents, digital footprint, and interview skills.
The career of your dream awaits. If you want support in customizing and implementing these strategies for your individual career journey, let's get your Career Activation Strategy Session scheduled.
Related: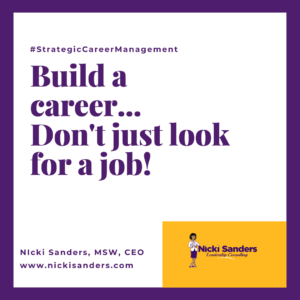 Nicki Sanders, MSW, CEO, is a Career and Empowerment Strategist who helps high-performing women of color in management go from overworked, underpaid, and unappreciated to energized, well paid, and appreciated. Through Nicki Sanders Leadership Consulting, she also helps businesses recruit, hire, train, and retain great employees. Nicki has an extensive background in developing and managing successful programs and leading high-functioning multi-disciplinary teams. She is an accomplished professor, coach, trainer, and group facilitator who has combined her gift for authentic relationships, Master of Social Work degree, and over 20 years of diverse work experience to create a life she loves. Nicki is a lover of cupcakes, travel, and 80's hip hop and R&B music.
© 2021 Copyright Protected. ALL RIGHTS ARE RESERVED.