We make multiple decisions each day – some much more important than others. Decisions on what we will wake up and shower, what we will eat, what clothing we will wear, and when we will check email. Every choice has a consequence. Our success depends on the decisions we have made in our professional and personal life.
I used to think that my issue was commitment. I would ask myself "are you committed or interested". I asked myself that question because I believed that if I committed to something, I would stick with it and get it done. I had it wrong. The truth is many times I had not made a firm decision. When I decide to do something there is no stopping me – I'm going to get it done. When I decide to do something, commitment is not an issue because my mind has been made up and anything else is non-negotiable. Always!
Decide ● Commit ● Succeed
Sometimes decision making is the toughest part in this success framework. 
Don't procrastinate or over-analyze.
Weigh all options objectively.
Manage your emotions. Don't let fear cloud your judgment.
Commit to your decision.
My clients have a history of job hunting sporadically. Some have come to me after sending out resumes for a few weeks then getting so consumed with their job that they put their career acceleration on the back burner. Another familiar scenario is applying for jobs as a direct result of a major issue in their toxic work environment then settling back into the toxicity once things "die down". When they are sick and tired of being sick and tired, they decide to go all in and connect with me to get the strategy, accountability, and resources they need to leave the mistreatment behind and go to the next level in their careers.
Let's work on being proactive instead of being reactive. Don't wait until you're desperate, angry, burned out, or forced out to decide to make your career a priority.
Career success is available to you. Where are you struggling in this framework? Decision or commitment?
I'm ready to assist with your career development plan when you truly decide to commit to your career success.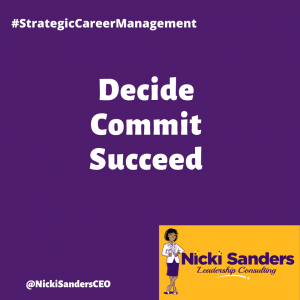 Nicki Sanders, MSW, CEO, is a Career and Empowerment Strategist who helps high-performing women of color in management go from overworked, underpaid, and unappreciated to energized, well paid, and appreciated. Through Nicki Sanders Leadership Consulting, she also helps businesses recruit, hire, train, and retain great employees. Nicki has an extensive background in developing and managing successful programs and leading high-functioning multi-disciplinary teams. She is an accomplished professor, coach, trainer, and group facilitator who has combined her gift for authentic relationships, Master of Social Work degree, and over 20 years of diverse work experience to create a life she loves. Nicki is a lover of cupcakes, travel, and 80's hip hop and R&B music.
© 2021 Copyright Protected. ALL RIGHTS ARE RESERVED.