Kenia Maldonado is a Licensed Master Social Worker and Certified Anger Management Facilitator in New York City. She is the owner of OnBoarding Solutions, LLC which supports Social Workers in understanding and owning their power through confidence building and talking points to advance their Social Work and leadership opportunities. Her motto is "There is Money and Power in Social Work".
Kenia has been in the Social Work field for over 20 years working her way from the frontline to leadership. Her experience includes working with youth in foster care, running parenting and anger management groups with formerly incarcerated individuals, and mediating custody/visitation cases in the New York City court system.
In the last 7 years, Kenia has shifted her focus to working in the homelessness and housing sector of Social Work. Kenia was recently selected as a member of the New York City Department of Social Services Inaugural Diversity, Equity, and Inclusion (DEI) Council.
Kenia holds a BA in Psychology from Syracuse University and is a graduate of Columbia University School of Social Work. She is an active member of Alpha Kappa Alpha Sorority, Inc. and a proud Afro-Latina who celebrates her Garifuna culture and Dominican roots. Kenia runs her OnBoarding business with her 6-year-old boss baby, Brandon.
I had the pleasure of talking with Kenia about her leadership and entrepreneurship journey, her social work experiences, her advice to women in leadership, her self-care practices, and her leadership superpower.
Listen to the full Conversation with Nicki Sanders and Kenia Maldonado BELOW.
Loading the player …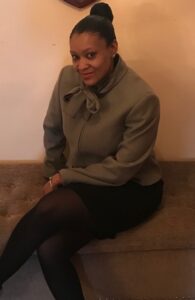 Nicki Sanders, MSW, CEO, is a Career and Empowerment Strategist who helps high-performing women of color in management go from overworked, underpaid, and unappreciated to energized, well paid, and appreciated. Through Nicki Sanders Leadership Consulting, she also helps businesses recruit, hire, train, and retain great employees. Nicki has an extensive background in developing and managing successful programs and leading high-functioning multi-disciplinary teams. She is an accomplished professor, coach, trainer, and group facilitator who has combined her gift for authentic relationships, Master of Social Work degree, and over 20 years of diverse work experience to create a life she loves. Nicki is a lover of cupcakes, travel, and 80's hip hop and R&B music.
© 2021 Copyright Protected. ALL RIGHTS ARE RESERVED.