Does This Describe You?
A woman of color employed in a professional role?
A college-educated woman seeking a career and not just a job?
Are you feeling overworked, underpaid, and unappreciated?
Are you smart, skilled, and credentialed with a solid work history?
Are you great at what you do and often called on for assistance?
Are you ready to stop the grind and work smarter?
Are you making a name for yourself in your industry?
Are you doing work that you love or ready to pursue work that you love?
Are you clear that you deserve to be paid well?
Are you growth-minded and coachable?
Do you sometimes experience self-doubt, but a pep talk will get you back on
Are you the leader in your circle and need additional support to go to your next level?
Are you ready to make your career a priority?
Are you READY to go to your next level?
You don't have to settle for less or sacrifice yourself for your job. You can be energized (in your career), well-paid (for your hard work), and appreciated (valued at your job).
Take Charge Of Your Career! It's Your Time:
To stand in your brilliance and stop shrinking and settling.
To do work that you love which fills your heart, mind and wallet.
To shed insecurity and self-sabotaging behaviors.
To be free to be who you are authentically.
To believe in yourself because you have what it takes to level up!
You are powerful and have the opportunity to use your power to turn your career dreams into your career reality.

If you need help developing your career goals, implementing a career development strategy or holding yourself accountable as you pursue your goals, contact me and let's do this! Get started with a Career Activation Strategy Session. Let's work together to get you on your path to finish 2020 strong and launch into 2021 with possibility and power!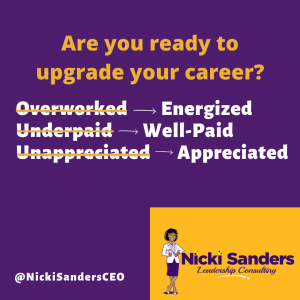 Nicki Sanders, MSW, CEO, is a travel and cupcake lover with an aptitude for authentic connection and career design. She has an extensive background in developing and managing successful programs and leading high-functioning multi-disciplinary teams. She is an accomplished professor, coach, trainer, and group facilitator who has merged her Master of Social Work degree and over 20 years of diverse work experience into a thriving business. Nicki Sanders Leadership Consulting helps businesses recruit and retain the best employees and helps women in mid-level management design the careers of their dreams.
© 2020 Copyright Protected. ALL RIGHTS ARE RESERVED.