That voice in your head that says you are not smart enough – Silence It
The notion that you don't have the right skills or credentials – Ignore It
The doubt that creeps in when you consider your accomplishments – Crush It
Imposter Syndrome looks like:
Not taking credit for your work
Avoidance of new opportunities
Not advocating for your needs
Holding yourself to unrealistic standards
Feeling like a fraud
Unusual fear of failure or disappointing others
Not sharing your ideas or speaking up in meetings
Stop It! Enough Is Enough!
Believe in yourself! You are powerful!
You are not only intelligent, educated, and accomplished enough to excel in the position that you are in, you also have what it takes to level up!
Use your power to turn your career dreams into your career reality.


It's Your Time:
To stand in your brilliance and stop shrinking and settling.
To do the work you love which fills your heart, mind, and wallet.
To shed insecurity and self-sabotaging behaviors.
To be free to be who you are authentically.
I'm ready if you are.
If you need help developing your career goals, implementing a career development strategy, or holding yourself accountable as you pursue your goals, I got you!! It's what I do!
A Career Activation Strategy Session will get you on your path to finish 2020 strong and launch into 2021 with possibility and power! Register HERE and let's get started! Investment is $149.00 through November 30, 2020.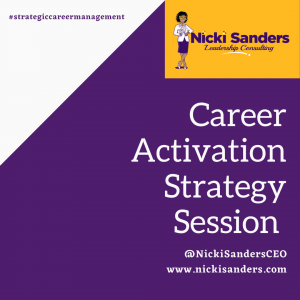 Nicki Sanders, MSW, CEO, is a travel and cupcake lover with an aptitude for authentic connection and career design. She has an extensive background in developing and managing successful programs and leading high-functioning multi-disciplinary teams. She is an accomplished professor, coach, trainer, and group facilitator who has merged her Master of Social Work degree and over 20 years of diverse work experience into a thriving business. Nicki Sanders Leadership Consulting helps businesses recruit and retain the best employees and helps women in mid-level management design the careers of their dreams.
© 2020 Copyright Protected. ALL RIGHTS ARE RESERVED.