"If you have no idea where you want to be, you have no idea when you veer off course." -Nicki Sanders
Decide – eliminate fuzziness and confusion and get clear on your career goals
Commit – stay focused on your goal by developing a game plan to overcome obstacles and a dream team to provide resources and accountability
Succeed – your success is inevitable when you believe in yourself, get clear on what you want, have a strong support system, and work diligently and strategically to attain it
Say YES to your career! Now through November 30, 2020, you can secure the career resources, support and objectivity you need to go to your next level with a Career Activation Strategy for the special one-time investment of $149.00. Regular investment is $297. Register on my website and let's get started.
"If you really want to do something, you will find a way. If you don't, you will find an excuse." – Jim Rohn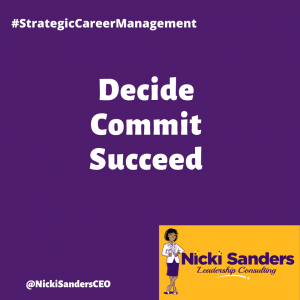 Nicki Sanders, MSW, CEO, is a travel and cupcake lover with an aptitude for authentic connection and career design. She has an extensive background in developing and managing successful programs and leading high-functioning multi-disciplinary teams. She is an accomplished professor, coach, trainer, and group facilitator who has merged her Master of Social Work degree and over 20 years of diverse work experience into a thriving business. Nicki Sanders Leadership Consulting helps businesses recruit and retain the best employees and helps women in mid-level management design the careers of their dreams.
© 2020 Copyright Protected. ALL RIGHTS ARE RESERVED.