Timbaland and Swizz Beat struck music gold with Verzuz TV. I haven't watched many, but I was front and center for Keith Sweat Verzuz Bobby Brown. I spent my high school years with Keith Sweat – I am a Keith Sweat fan. I didn't know how the evening was going to turn out. I knew that the only song during this match-up that could top Make It Last Forever was Roni and I was open to whatever happened! Now you all know that I love New Edition individually and collectively but, Keith Sweat won that battle. I'm a huge fan of King Bobby Brown, but the song choices and order of the songs left me scratching my head. Bobby waited too long to bring out the big hits, but it was worth watching every single moment.
Bobby started with a #1 hit and walked us down memory lane with Jealous Girl and Mr. Telephone Man. Keith called it cheating because they were New Edition songs, but he's wrong because Bobby was a part of New Edition. Bobby's music catalog is comprised of his songwriting, group songs, solo songs, soundtracks, and duets. His catalog is like your professional portfolio – a collection of all contributions, achievements, and experiences. Career Tip: Use your portfolio to tell your career story.
Real Bobby Brown fans weren't complaining, we were celebrating! Singing and dancing and proud that Bobby has some pandemic weight and can smile and perform despite the tragedies he has experienced. Fun, showmanship, and audience participation are 3 areas where Bobby came out on top.
Fun – Keith and Bobby are friends. I felt like Bobby was happy and grateful to be there. He brought his family as was ready for a good time. I felt like Keith wanted a battle and was a little more competitive than the situation called for. Career Tip: Keith with the Ciroc was a prime example of 'drunk at work looks good one no one'. Once that liquor hit his system good, Keith was slurring words, forgetting lyrics, and throwing ridiculous shade. He seemed bitter by the end of the night. Bobby was still partying. Career Tip: Don't get drunk at work functions.
Showmanship – Bobby is a performer! He commands the stage. Bobby was dressed to impress and ready to party. He didn't come to sit in a chair and talk about his music. Now, he may have danced a little too hard too soon and wore himself out a little too early, but his energy was fire was beginning to end. Bobby was giving us a concert – he even sang backup for Keith. I loved every minute of it. Career Tip: Do your best work.
Audience Participation – Bobby loves his fans, and he knows that his fans love him – and his fans also know his song lyrics and dance routines. He gave us what we wanted. Bobby invited the audience to sing with him and the audience continued to sing even after the DJ cut the record. We danced down memory lane with Bobby Brown, the undisputed King of R&B. Career Tip: Collaboration is an essential component of career success.
Did you watch this epic Verzuz? What career tips can you share?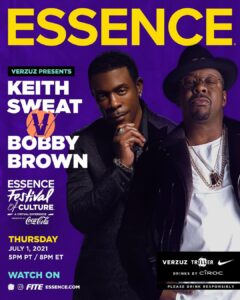 Nicki Sanders, MSW, CEO, is a Career and Empowerment Strategist who helps high-performing women of color in management go from overworked, underpaid, and unappreciated to energized, well paid, and appreciated. Through Nicki Sanders Leadership Consulting, she also helps businesses recruit, hire, train, and retain great employees. Nicki has an extensive background in developing and managing successful programs and leading high-functioning multi-disciplinary teams. She is an accomplished professor, coach, trainer, and group facilitator who has combined her gift for authentic relationships, Master of Social Work degree, and over 20 years of diverse work experience to create a life she loves. Nicki is a lover of cupcakes, travel, and 80's hip hop and R&B music.
© 2021 Copyright Protected. ALL RIGHTS ARE RESERVED.