"Interns thrive in order and decline in chaos." – Nicki Sanders
Do you want an intern to:
Understand business your mission and goals
Respect and protect the boundaries you set
Know and represent your business well
Have a valuable learning experience
Help you increase your productivity and profits
Become your next great employee
If you want your business to run well you must have strong systems in place. Your processes and systems help ensure that your customers receive quality products and great customer service. Recording your company's operations helps you translate important knowledge that eliminates guess work and allows your intern to complete tasks more efficiently. Systems also allow you to expect consistent performance and evaluate your intern and internship program based on realistic expectations.
Take the time to develop and document proper systems and processes before you bring in an intern.
Related Article: Should I Draft An Internship Handbook?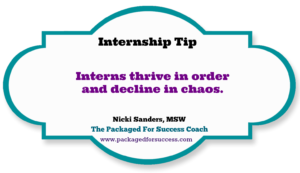 Nicki Sanders, The Packaged For Success Coach, is an Adjunct Professor with a passion for business and career development. She has an extensive background in developing and managing interns and successful internship programs. She is a skilled manager, coach, trainer, and group facilitator who has packaged her Master of Social Work degree and 20 years of work experience into Packaged For Success, a full service training and professional development company.
© 2017 Copyright Protected. ALL RIGHTS ARE RESERVED.